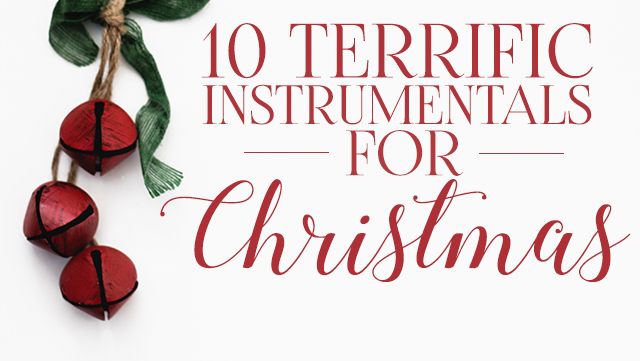 Discover Worship offers more than 170 instrumentals, which are available for immediate download for our Unlimited PLUS Members. Featured below are 10 easy to learn and fun to perform instrumentals for Christmas. Your congregation will delight in these wonderful arrangements all season long.

We know this Christmas will look different than those in the past and social distancing may still be necessary. These terrific instrumentals add a beautiful and contemplative element to your worship services and can be performed by fewer musicians. Click on each of the titles to preview the audio and PDF of the entire work.


A Christmas Medley: Christopher Phillips' brilliant medley weaves portions of Joyful Joyful, We Adore Thee, Hark The Herald Angels Sing, Go Tell It On The Mountain, Carol Of The Bells and Angels From The Realms of Glory into one transcendent piano solo.



Angels We Have Heard On High: From arranger Don Pardoe, this reflective piano solo of the classic carol is a simple but emotional interpretation lends itself to quieter moments of the Advent season. For the moderately skilled pianist.



Away In A Manger: Arranged for piano, two violins and viola, this thoughtful rendition of the classic carol is styled in an Americana feel with jazz harmony inflections throughout. A memorable instrumental feature for the Christmas season.

God Is So Good w/ O Come Let Us Adore: From the Peaceful Moments series, this collection of timeless instrumentals and nature-themed videos features a beautiful piano arrangement with an equally beautiful video for God Is So Good w/ O Come Let Us Adore.



He Is Born: A joyous announcement of Christ's birth, ringing to the heavens! Be prepared...this 3 octave arrangement starts easily enough but the center section progresses to dense chords requiring many hands. But how wonderful the result!



How Great Our Joy: This beautiful piano arrangement of a well loved hymn sports a plethora of stylistic nuances sure to delight any musician.




O Come All Ye Faithful: Timothy Webb's O Come All Ye Faithful is an exercise in beautiful restraint. From the simple opening stanza the song slowly unfolds into a beautiful, heartfelt setting of the well-known song.



Offertory On "Regent Square": Expanding on the familiar carol "Angels From The Realms of Glory" with thoughtful chord progressions and inventive development, this piano solo is ideal for a Sunday morning offertory during the Christmas season.



Sleep In Heavenly Peace: This delicate and sensitive paraphrase of Silent Night will make for a worshipful prelude, offertory, or communion meditation during the Christmas season.





What Child Is This: Infused with intricate patterns and progressions, this piano solo brings a fresh energy to the familiar carol, making it a perfect addition to any service during the Christmas season.


Discover Worship offers thousands of great pieces of church music that can be fully previewed and instantly downloaded, including more than 170 instrumental pieces at one low annual price - tiered to your average congregation size. Click here to find out how little an annual membership costs!