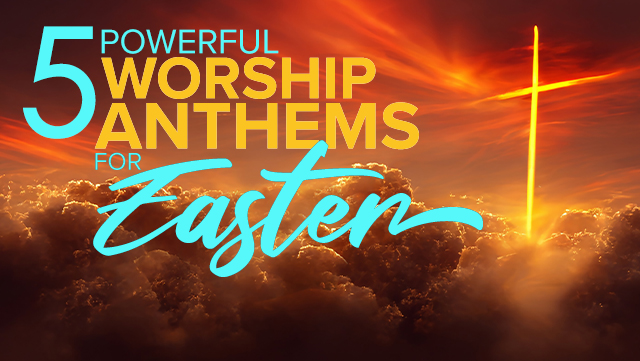 Come and experience some of our most powerful worship anthems for Easter in this short but incredible list of songs that will inspire and encourage your congregation! Ranging from easy to medium difficulty, these anthems bring together a strong and compelling message with expressive and uplifting music that will be right at home in your contemporary or blended worship services.

Featuring arrangements by Craig Smith, Regi Stone, Barry Collecutt, Ben McAmis, and Todd Wright, these powerful anthems will unite the church in worship as we sing of Christ's redemptive work on the cross and His triumphant resurrection!

PRAISE & WORSHIP (EASY)
At the Cross
Arranged by Ben McAmis
A steady and stirring rendition of the enduring hymn. With the same thoughtful lyrics and familiar melody, and the addition of a contemporary chorus, this arrangement is equally engaging as a congregational song in a blended worship service and as a solo or small band performance.



PRAISE & WORSHIP (EASY)
Once and for All
Once and for All (with Video Track)
Arranged by Todd Wright
Smooth and reassuring, worship artist Todd Wright's powerful anthem is a celebration of salvation through Christ. Its arrangement is easily accessible to any praise & worship band for congregational singing or solo performance. [Lyric video available to Unlimited Plus members.]



PRAISE & WORSHIP (EASY)
Remember
Arranged by Craig Smith
Craig Smith has penned a powerful new modern worship song that calls us to remember Christ's sacrifice at the cross by praising him with our whole hearts. This deeply emotional song is easily learned for Easter or year-round as a great communion song.



3-PART (EASY)
Come to the Lamb
Come to the Lamb (with Video Track)
Arranged by Barry Collecutt
With memorable lyrics and melody, "Come To the Lamb" is both easy-to-learn and very singable. Ideal for contemporary or blended services, this piece would work well with worship team or 3-part choir. [Lyric video accompaniment track available to Unlimited PLUS Members.]



PRAISE & WORSHIP (MEDIUM DIFFICULTY
Redeemed
Redeemed (with Video Track)
Arranged by Regi Stone
"Let the redeemed of the Lord say so!" is the cry of this worship ballad from Regi Stone. With an earnest simplicity, this powerful song gives voice to the gratitude that overflows when we consider God's gracious gift of salvation. [Lyric video accomp. track available for Unlimited PLUS Members.]