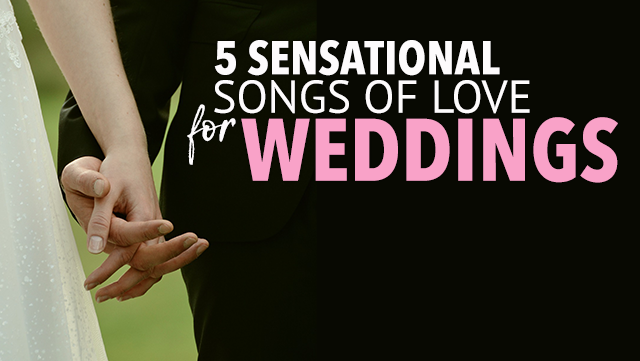 By Jaymey Hardin

Below is our list of 5 Sensational Songs of Love for Weddings. Traditionally, June is the most popular month of the year to get married, followed by September and October. This is due in part to the beautiful weather those months typically bring, but when you've found the one that God has for you and you're ready to begin your lives together, the month or the weather really doesn't matter!

This short list of songs includes solos and duets that range from easy to medium difficulty and were arranged by Dave Williamson, Dino & Deborah Ascari, Joe Linn, and Kyle Hill. Simply click on the links below to preview these beautiful songs for this most wonderful occasion!



SOLO (EASY)
Forever I Do
Arranged by Dave Williamson
The perfect solo of commitment for the contemporary Christian wedding.






SOLO/DUO (MEDIUM DIFFICULTY)
You Are the One I've Waited For
Arranged by Dino & Deborah Ascari
This soulful duet is a celebration of two lives brought together in a Christ-centered marriage. Ideal for weddings and to accompany marriage-related messages and events.

DUO (MEDIUM DIFFICULTY)
Two Into One
Arranged by Joe Linn
A duet for a male and female vocalist, this piece celebrates the union of marriage. An excellent piece for a wedding, a message on marriage, or marriage conference.




SOLO (EASY)
You Call Me Yours
Arranged by Dave Williamson
Recorded by Sandi Patty, this tender solo celebrates the way that God sees us. Despite our imperfections, he calls us beautiful, righteous, and holy. He calls us worthy, forgiven, and pure. Appropriate for Mother's Day or even wedding ceremonies, this precious ballad emphasizes biblical womanhood.



SOLO (EASY)
If I Could Be Anyone
Arranged by Kyle Hill
A heartfelt solo piece that would work well for a wedding, anniversary, Mother's or Father's Day, or special service celebrating someone greatly admired.