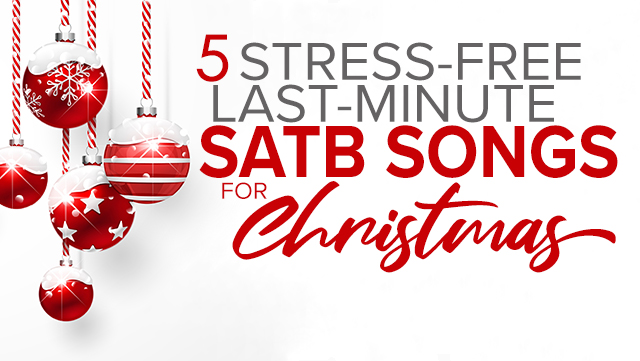 With Christmas rapidly approaching and time running short, we thought it might be helpful to highlight some of the easier SATB Christmas pieces from our catalog. If you're looking to add a special Christmas song to your worship services, but don't have much time to prepare, we've got you covered! This short list will be your "go-to guide" for stress-free, last-minute Christmas music!

Including some of our easier SATB arrangements by Russell Mauldin, Dennis Allen, Kris Crunk, Dave Williamson, and Robert Sterling, you can perform these pieces with confidence and very little preparation. If you're in a pinch for time, no worries! You and your team will sound great as you sing these stress-free, last-minute pieces for Christmas!



CHRISTMAS SATB (MEDIUM DIFFICULTY)
Glory to God in the Highest
Arranged by Russell Mauldin
With its easy-to-learn melody and classical nuances, this is a worshipful and elegant setting of the angels' pronouncement of Christ's birth. The descant makes it even more fun!




CHRISTMAS SATB (EASY)
The Angel's Story Medley
Arranged by Kris Crunk
This upbeat, easy-to-learn 4-part medley by Kris Crunk that will open a Christmas service or concert perfectly! Includes the songs "Hark, The Herald Angels Sing!," "Oh Come All Ye Faithful" and "Oh What A Story."




CHRISTMAS SATB (EASY)
Born This Night
Arranged by Dennis Allen
This "easy to learn/fun to sing" anthem artfully interweaves "Hark the Herald Angels Sing," giving your congregation an opportunity to join in!




CHRISTMAS SATB (EASY)
How Many Kings?
Arranged by Dave Williamson
With powerful lyrics, "How Many Kings" reminds us of our Father's incredible sacrifice of love. For a 4-part choir with a soloist, works well in a blended or contemporary worship service.




CHRISTMAS SATB (EASY)
Behold, He Has Come
Arranged by Robert Sterling
This contemporary worship chorus is a response to the wonder and glory of the Incarnation. Arranged for simple SATB with soloist, your congregation will be singing along the very first time.