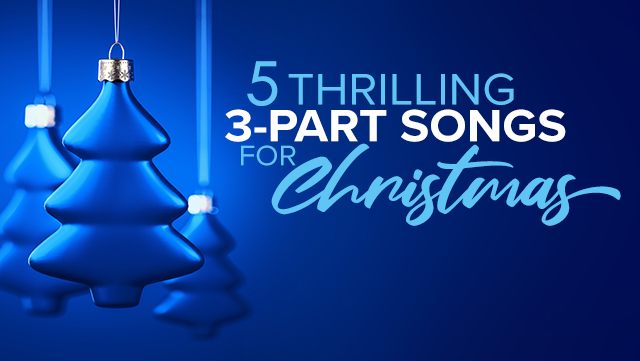 Join us as we look at 5 Thrilling 3-Part Songs for Christmas! With arrangements by Karen England, Craig Adams, Camp Kirkland, Dave Williamson, and Dan Boone, these charming pieces will delight your congregation and encourage them to join in and sing along!

Ranging from easy to medium difficulty and from contemporary to traditional, this list includes a variety of songs that are perfect for the Christmas season! We hope you'll consider the following songs as you make your music selections for Christmas!



CHRISTMAS 3-PART (MEDIUM DIFFICULTY)
Angels We Have Heard on High
Arranged by Karen England, Nancy Groeneveld
Re-harmonized in a minor mode, this classic carol features a light rock groove and haunting new melody. Perfect for a contemporary candlelight service. For soloist and 3-part choir.




CHRISTMAS 3-PART (EASY)
Come, Emmanuel Medley
Arranged by Craig Adams
A grand medley of carols and hymns with a majestic entrance and contemplative final cadence, this choral arrangement is largely unison with moments of 3-part harmony. An easy addition to your Christmas repertoire.




CHRISTMAS 3-PART (MEDIUM DIFFICULTY)
How Great Our Joy (with band)
Arranged by Camp Kirkland
With a bright, modern feel, Camp Kirkland's arrangement of the classic carol for a 3-part choir will fit well in a traditional, blended worship, or light contemporary Christmas service.




CHRISTMAS 3-PART (MEDIUM DIFFICULTY)
Joy to the World
Arranged by Dave Williamson
Dave Williamson brings this soulful rendition of Joy To The World to life with a relaxed gospel groove. Arranged for a 3-part choir or praise team, this piece would be an excellent addition to any blended or contemporary Christmas worship service!




CHRISTMAS 3-PART (MEDIUM DIFFICULTY)
Gentle Mary Laid Her Child (SAB)
Arranged by Dan Boone
Arranged for SAB choir and piano, this modern Christmas ballad begins as a lilting lullaby then builds into worship and adoration. Perfect for your Christmas Eve service. Also available as a 4-part arrangement.