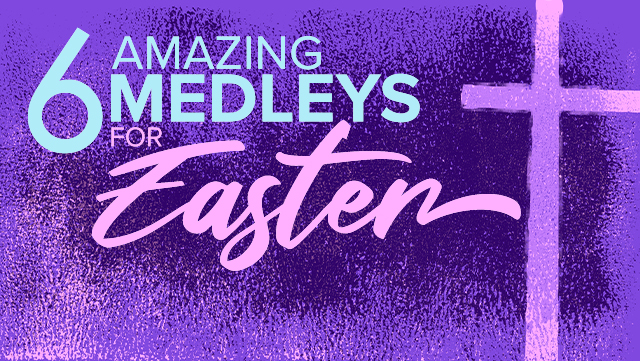 Join us as we explore this short but amazing list of medleys for Easter! These beautifully arranged combinations bring multiple beloved Easter anthems together in the form of medleys to express our love and adoration for Christ––and they remind us of His redemptive, sacrificial love for us.

With accessible and singable arrangements, these meaningful medleys bring us to a deeper place of worship and draw our attention to the life-changing, redeeming love of Christ––the true meaning of Easter, and the very foundation of our faith.

Beautifully arranged by Dennis Allen, Kris Crunk, and Cliff Duren, these medleys are perfect for Easter and are a joy to sing!

SATB (EASY)
Wondrous Love Medley
Arranged by Kris Crunk
A dynamic yet singable combination of two beloved hymns, this medley is a perfect piece to feature the small choir this Easter season.





SATB (EASY)
The Love of Easter Medley
Arranged by Kris Crunk
Blending "Christ Arose," "Christ the Lord Is Risen Today," and "This Wondrous Love," this dynamic arrangement is an excellent opener for your Easter morning service. Arranged for traditional choir.



SATB (EASY)
Were You at the Cross Medley
Arranged by Kris Crunk
With a relaxed country feel, this easy medley of "Were You There?" and "Jesus Paid It All" for SATB choir or ensemble will be an instant favorite of your choir and congregation. A classic arrangement, this piece serves well in traditional, blended, and contemporary settings.



SATB (EASY)
O the Blood of Jesus Medley
Arranged by Dennis Allen
Dennis Allen's uplifting 4-part choir arrangement of "O The Blood of Jesus," "Nothing But the Blood" and "There Is A Fountain" works in a traditional or blended service. Invite the congregation to sing along!




SATB (EASY)
The Cross Medley
Arranged by Kris Crunk
For traditional to blended services, Kris Crunk's simple SATB arrangement is a beautiful blend of "Jesus Paid It All" and "At the Cross."





SATB (MEDIUM DIFFICULTY)
Remember the Cross
w/ The Old Rugged Cross
Arranged by Cliff Duren
Arranged for soloist and SATB choir, this powerful anthem works well during communion or for Easter. One of the most popular choral arrangements we've ever offered, this earnest and worshipful piece would easily find a home in your contemporary worship service.