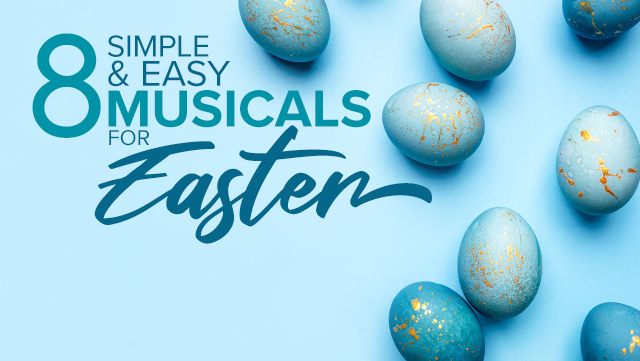 Join us as we look at 8 Simple & Easy Musicals for Easter! These simple and easy musicals are perfect for smaller choirs and worship teams and will help you deliver a truly beautiful and meaningful Easter program with less time and preparation!
These musicals can be presented using soloists, duos, and smaller ensembles and don't require numerous musicians or a full choir. And as always, accompaniment tracks are available for all of these works!

These simply beautiful musicals give you some excellent possibilities for your Easter program this year, be sure to check them out!
SOLO/SATB CHOIR
Christ Is Risen! An Easter Mini-musical (simple)
Arranged by Terry Winch, Dennis Allen, Kyle Hill, Kris Crunk, Russell Mauldin
This 5-song, 22-minute Easter mini-musical tells the story of Holy Week with accessible, inspirational arrangements from Dennis Allen, Russell Mauldin, and others. Perfect for the blended choir/ensemble looking to present a fresh but reverent musical segment for your Easter celebration.



SOLO/DUET/SATB CHOIR
The Cup, The Cross, The Crown (simple)
Arranged by Dan McGowan, Kyle Hill, Bruce Greer, John Patrick
Ranging from inspirational to lite contemporary in style, this 8-song, 26-minute, simplified musical with narration traces Jesus' journey from the triumphant entry to the empty tomb using the images of the cup, the cross, and the crown. Includes solos, duets, and singable 4-part arrangements.

4-PART ENSEMBLE and CONGREGATION
Sing We Now of Easter: A Concert of Resurrection Hymns (simple)
Arranged by Kris Crunk, Dave Williamson, Terry Winch, Russell Mauldin, Hal Wright
This concert of 5 majestic hymn medleys is designed for your SATB ensemble to lead your congregation in worship during your Easter service. Arranged by Dave Williamson, Russell Mauldin, and others, this 14-minute program is traditional to blended in style. While "simplified," this work still requires competent singers for each vocal part. Likewise, the choir director will need to be able to conduct the singers as well as cue the congregation to sing at the appropriate times.



CHORAL (SATB EASY)
Hallelujah! Christ Arose!
Arranged by Luke Woodard
Arranged specifically for the small choir, this mini-musical features singable SATB parts with thoughtful piano accompaniment, offering a refreshing celebration of Christ's death and resurrection.

CHORAL (EASY)
Jesus Paid It All: An Easy Easter Celebration
Arranged by Dan McGowan, Dave Williamson, Kyle Hill, Russell Mauldin
For the blended church choir with limited resources, this simple and short 21-minute Easter mini-musical with narration focuses on Christ's sacrifice and features 6 singable pieces by such accessible arrangers as Kyle Hill, Russell Mauldin, and Dave Williamson.



CHORAL (EASY)
Come to the Cross (Easter Musical)
Arranged by Dennis Allen
This musical invites everyone to experience the love of Christ as expressed on the Cross. It features 7 songs (many familiar hymns) arranged for easy adult choir by Dennis Allen and punctuated with short testimonies/narrations that can be used as they are or personalized by members of your choir.



CHORAL (EASY)
Redeemer: The Timeless Story of Easter
Arranged by Bruce Greer, Hal Wright, Kyle Hill, Robert Sterling, Luke Woodard
For traditional or blended worship settings, this very simply arranged 30-minute Easter cantata uses 8 familiar hymns and new compositions—along with short narration segments—to tell the timeless story of Easter for those who haven't heard as well as for those who know it well.



CHORAL (EASY)
Simply Easter: An Easter Musical for 2 & 3-part Choir & Soloists
Arranged by Dave Williamson, Luke Woodard, Jim Hammerly, Hal Wright, Kris Crunk, Terry Winch
For small choirs or larger choirs with limited skills, this fresh yet reverent celebration of the resurrection for 2-part and 3-part choir and soloists features arrangements by Jim Hammerly, Dave Williamson, Luke Woodard, and others that will work in traditional, blended, or contemporary settings.