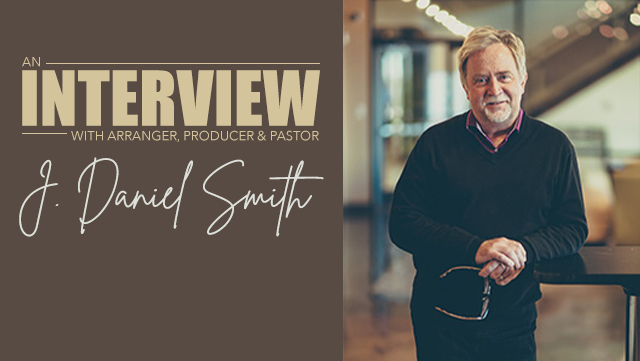 Our guest today is J. Daniel Smith. Discover Worship is honored to feature more than 30 of his arrangements, including those which were commissioned by our company and those from other prominent publishers. Dan is a prolific and renowned arranger for church choirs and Christian recording artists as well as for well-known corporate jingles. While many church musicians are acquainted with his work, you may not know that he's also the senior pastor of his church. Join us as we hear his story and his unique perspective on how worship pastors can work with their pastoral leadership.
DW: Thanks for taking the time to share your life and witness with us. Let's begin with how you came to faith in Christ. Was music an important part of that story?

JDS: Raised in a pastor's home and by very musical parents, I found my place in the music of the church at a very early age. I began playing piano alongside my mother at the age of three and was surrounded by godly musical influences. At the age of six, I declared Jesus as my personal Lord and asked forgiveness for my sins. However, like so many raised in the church, it was as a young adult that I came to a breaking point in my life which brought me to the point of full surrender to His will, therewith "owning" my faith apart from all the strong influences which had so carefully guided me to that point. The music of the church was (and remains) a daily experience for me and my walk with Christ.

DW: Tell us about your musical education and experience. Looking back, what things were most formative for you? Who were your musical heroes?

JDS: I am a self-taught musician. With my parents raising our family on a limited pastor's income, I only took piano lessons as my parents could afford it. However, through all my path of schooling, I devoured the recorded work of Andrae Crouch, Lari Goss, Ralph Carmichael, and Ronn Huff. I was also privileged to be in proximity to many great local church musicians whose chord vocabulary captured my attention and caused me to not rest until I gained a full understanding of their chord voicings. Many of the popular secular artists of the 70s also had impact upon me, particularly on how to approach a big ballad.
DW: You've created an extraordinary body of work as a writer and arranger. How would you characterize your musical style and approach to arranging for the church?

JDS: I don't personally think of it in terms of one style or approach…and want to believe that I have some degree of breadth in both style and approach. However, I am told that those who know my work intimately can easily spot a JDS arrangement or orchestration, so there must be some identifiable markings in my work. While working on a production in a Nashville studio one day, one of the brilliant session keyboard players walked into the control room after completing his work at the keyboard and said something to me that I've always taken as a great compliment, especially coming from him. He said, "Dan, your arranging always has a touch of Hollywood combined with a lot of Holy Ghost and Fire in it!" It must be the result of the time I spent pouring over film scores along with a lifetime spent in gospel music in the church. My professional musician friends will often tell me that when working for me they know to assume a default musical styling of "R&B" unless it is clearly a symphonic or some other approach is called for.

DW: Of all your arrangements, which ones have had the biggest impact? Which are your personal favorites?

JDS: That's very difficult to answer because I have many favorites. May I list a few? The work I have done for the Missions Department of the Assemblies of God every year for 31 years has truly been an expression of my heart. The 'stand out' tune in that field is "Spirit of God" written by Shannon Wexelberg. The orchestrations I have written and conducted on five Brooklyn Tabernacle Choir recordings have been an honor and privilege which move me to tears every time I listen. Some of my best work has been for solo artists like Damaris Carbaugh, Wintley Phipps, Geron Davis, or Dennis Jernigan…all of them gifts to the church. The hundreds of anthems and dozens of Christmas and Easter musicals, along with non-seasonal choral collections for publishing companies have been gratifying because all of that goes directly to help local church music ministries. But if you force me to put a spotlight on one collection, it would be a four-CD series of hymns for Discovery House Music called the "Masterpiece Collection." Titles were comprised of the works of Francis Havergal, Isaac Watts, John and Charles Wesley, and Fanny Crosby. That series gained worldwide acceptance and was received so broadly because those hymns have stood the test of time. I cannot exclude the fun I've experience working on light-hearted projects for Disney, American Airlines, Chuck E. Cheese, Allstate Insurance, Special Olympics Opening Ceremonies, and many other projects we refer to as "industrial music." Those were always a welcomed diversion and certainly broadened me as a musician.

DW: Several years ago, your church called you from worship pastor to senior pastor. Tell us about that transition.

JDS: The story is too long to articulate in a brief interview and I will not do it justice. However, I was greatly privileged and favored of the Lord to be called to serve Bethesda Community Church in Fort Worth, Texas in May 1978 alongside Senior Pastor Desmond Evans. Pastor Des became the greatest mentor of my life spiritually and pastorally. Our journey together was 33 years. In the last few years of our time together I had quietly assumed that when he retired, my wife and I would simply move to Nashville so that I could continue in music production for the remainder of my working days. Through a series of unexpected circumstances, it became clear that the Lord had a different plan as I was approached by Pastor Des to consider allowing my name to stand for election before the congregation for the Office of the Senior Pastor. Honestly, the thought had never crossed my mind and I found myself experiencing a natural resistance to the idea of being the Senior Pastor simply out of my utmost regard and respect for Pastor Des. I believed no one could take his place nor fill his shoes. I still believe that. But God, in His Sovereignty, guided our steps through what our congregation will tell you was the smoothest transition any of them have ever experienced. God be praised!

DW: Some of our choir directors and worship leaders have challenging relationships with their senior pastors. How have your experiences as a worship pastor and senior pastor shaped the advice you'd give regarding working together for an effective ministry?

JDS: Psalm 133 has taken on significant meaning for us at our church. We passionately believe that when we, as God's people, will dwell together in unity, God will command his blessing to fall, according to that Psalm. But it must be more than just a nice idea to embrace. It must be that to which we give intentional effort. Therefore, we take steps to deliberately "protect the unity" of our fellowship. When I was the Minister of Music working for Pastor Des Evans, I had a full and complete understanding of spiritual authority and believed wholly not on in the man, Des Evans, but I believed in the Office that he held. There was no doubt that he was placed there by none other than God Himself. Did I agree with every decision? Of course, not. But it didn't matter whether I agreed or not because I believed in Pastor Des. Today as the Senior Pastor, I know there are three critical components that I must consider when looking to bring on a new staff member. Those components are Character, Competence, and Chemistry. Of those three, the "wildcard" is chemistry…because you don't really know if the chemistry is viable until you've walked some measure of the journey together. Whether you are the Senior Pastor or the Worship Pastor, it is vitally important that you find the best path toward communication. While it does not necessarily come easily for everyone, the expectations and subsequent communications must be put in place in order for those two leaders of the church to find their highest level of synchronization.

DW: Congregational worship has changed significantly over the past twenty years--and dramatically over the past year as churches have struggled with the pandemic. What are some key principles of worship planning, rehearsal, and leadership that you'd like to pass on to our community?

JDS: First of all, know your audience! You must know the "song of the heart" of your fellowship and always make a place for it, even while you introduce new sounds, new lyrics and new expressions. Please do not abandon the "tried and true" hymns of the faith whose theology has stood the test of time. Praise and Worship choruses tell us that "God is great" but the hymns tell us "why!" Rehearsals need to be well-planned and executed with great efficiency. Your singers and musicians are living lives at a very fast pace and have a plethora of options for how they can potentially spend their time. They will choose the option of your rehearsal if you have built a reputation of running the rehearsal efficiently, effectively, and they are confident they will leave that rehearsal having been greatly inspired to give themselves in the ministry of music to worship Jesus.
DW: Thank you, Daniel, not only for your inspiring worship arrangements but also for your heart for worship that truly honors God.

---
Born and raised in a pastor's home, Dove Award-winning arranger and orchestrator J. Daniel Smith has always been well acquainted with the ministry of music in the local church. During his four-decade professional career as a producer of choral music, he maintained his position as Minister of Music at Bethesda Community Church in Fort Worth, TX, where he continues to serve today (43 years later) as Senior Pastor. Dan and his wife, Becky, have two children, two beautiful granddaughters, and one grandson on the way.