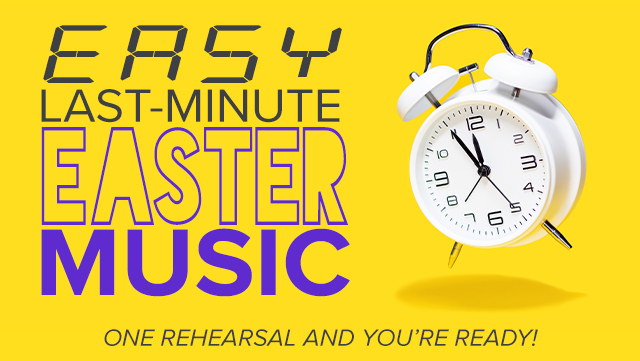 Easter is almost here and if you're still looking for special music to put the finishing touches on your Easter Sunday services, we've got you covered!

Below, we've highlighted a special selection of songs that include SATB, 3-part, 2-part, solo and instrumental arrangements that are easier to learn and can be ready in just one rehearsal! Most importantly, these beautiful songs bring glory to the Risen Savior and are absolutely perfect for Easter!

Made with simplicity in mind, these easy-to-learn songs were beautifully arranged by Regi Stone, Micah Kersh, Luke Woodard, Dave Williamson, Kyle Hill, and Russell Mauldin! One Rehearsal and you're ready!

SATB (EASY)
Jesus Paid the Highest Price
Arranged by Russell Mauldin
Appropriate for blended or contemporary choir at Easter (or any time), Russell Mauldin has masterfully arranged this poignant song to include 4-part vocals so that the average choir may perform with precision and passion.




SATB (EASY)
Risen from Eternal Death
Arranged by Kyle Hill
Measured and majestic, this fresh 4-part resurrection anthem might be as easily appropriate for a congregational hymn as it would be a choir special in your traditional or blended Easter service.




3-PART (EASY)
Purchased by Love w/ Jesus Paid It All
Arranged by Dave Williamson
This bright 3-part anthem (with solo) is an encouraging Easter piece that works in a traditional or blended worship setting. Segues into "Jesus Paid It All" at the end.




3-PART (EASY)
This Is the Gospel
Arranged by Luke Woodard
With a clear presentation of the Gospel, this song for the 3-part choir or ensemble in blended or contemporary settings is an invitation to hear and believe in the amazing truth of salvation through our Savior, Jesus Christ. An SATB version is also available.



2-PART (EASY)
Enter Paradise (2-Part)
Arranged by Luke Woodard
This emotional Easter anthem is now available in a simple but elegant 2-part arrangement by Luke Woodard, joining solo/ensemble and SATB arrangements which compel us to reflect upon the incredible cost of redemption.



SOLO (EASY)
At the Cross
Arranged by Micah Kersh
Worship leader Micah Kersh has reset Isaac Watt's lyric with a modern worship melody and thoughtful piano accompaniment. Perfect for a special feature for your blended service.




INSTRUMENTAL (EASY)
Near the Cross
Arranged by Regi Stone
The poignancy of this hymn comes through loud and clear...even without the words! Regi Stone has done a great job of demonstrating our soul's yearning through the piano. As you'll hear on the demo, adding your own synth pad, can enhance the feeling.