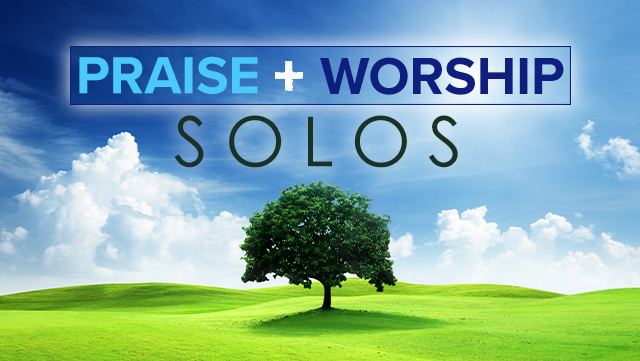 Join us for this special feature as we explore a beautiful selection of Praise & Worship solos! These incredible solos are perfect for worship leader and praise team and will engage your congregation as they lift their hearts to the Lord.

Ranging from blended to light contemporary, and featuring easy to medium difficulty arrangements by Dino Ascari, David M. Edwards, Trent Smith, and others, these solos are a joy to sing and are an excellent choice for your times of worship.

SOLO/ENSEBLE (MEDIUM DIFFICULTY)
Anchor of My Soul
Anchor of My Soul (with video track)
Arranged by Dino Ascari
A testimony to the life that finds its foundation in Christ, this modern pop ballad is perfect for the moderately experienced soloist. [Lyric video accompaniment track available to Unlimited PLUS Members.]



SOLO/SATB (EASY)
Through It All
Arranged by Trent Smith
From Twin Lakes Church in Aptos, CA, this powerful hymn of assurance features a male solo with SATB choir joining as the song builds with sincere conviction.



SOLO (EASY)
Name Above All Names
Name Above All Names (with video track)
Arranged by David M. Edwards
This stirring anthem exalts the name above all names, Jesus. Proclaiming His Majesty and drawing us into a deeper place of worship to our Savior. For blended or contemporary settings. [Lyric Video accompaniment track available to Unlimited PLUS Members.]



SOLO/ENSEMBLE (MEDIUM DIFFICULTY)
Relentless
Arranged by Jason Cox, David Glenn
A triumphant celebration of God's forever faithful love and grace, this strong contemporary praise anthem works well with a worship leader and band or as a solo/ensemble piece. Also included: optional string charts.




SOLO/DUET (EASY)
You Are My Desire
Arranged by Erica Sharlow, Vineyard Worship
From Vineyard Worship, this simple song of surrender builds from a quiet prayer to a passionate plea for God to fill our lives and hearts. For the worship leader / soloist in contemporary settings, this piece also includes harmony parts for additional vocalists.