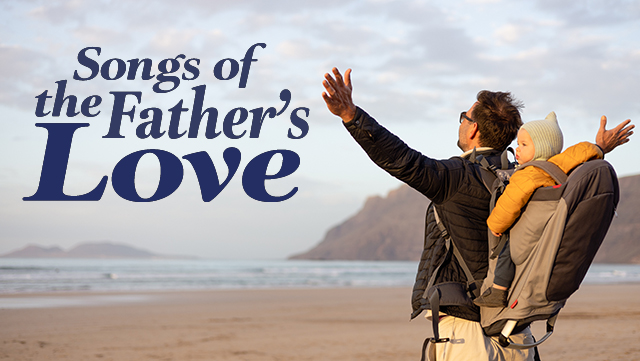 Father's Day is coming soon, and in this feature, we've compiled a special list of songs that sing of the Father's love – and of our love for Him! Dads at their very best, are examples of our Heavenly Father. They point the way for us in life with wisdom, love, discipline, understanding, direction, and compassion. They're transformative in our formative years. They're larger than life. Sometimes they're funny and make us laugh. Sometimes they're serious and bring correction. But they always try to lead and guide us in the right direction.

We're blessed to have them in our lives and we appreciate the foundation that they've laid for us. Join us as we honor and give glory to our Heavenly Father with these songs specifically chosen with fathers in mind!

Below, we've got an amazing selection of songs that sing of the Father's love and include contemporary and traditional worship arrangements, as well as kid's offerings by Dave Williamson, Russel Mauldin, Dennis Allen, Kyle Hill, Hal Wright, Bradley Knight, Jon Patrick, and more! These beloved anthems will bless all of the fathers in your congregation and will most importantly glorify our Heavenly Father!


SOLO (EASY)
Suffer the Little Children
Arranged by Hal Wright
A touching solo piece singing of parenthood and Christ's call to love and welcome children, this flexible ballad would work well in a variety of services: from traditional to contemporary.




SATB (EASY)
Carry Me
Carry Me (with video track)
Arranged by Kyle Hill
Speaking of God's forgiveness and grace, this song serves as a powerful reminder that His strength is perfect in our weakness. This light contemporary SATB + soloist arrangement integrates the beloved hymn, "I Need Thee Every Hour." [Lyric video accompaniment track available for Unlimited PLUS Members.]



SATB (EASY)
Even While We Sleep
Even While We Sleep (w/ simple orchestra)
Arranged by John Patrick
A beautiful ballad that calls us to rest in the constant care of our heavenly Father. Featuring solo with supporting SATB choir parts. [Simple orchestra parts available to Unlimited PLUS Members]



3-PART (MEDIUM DIFFICULTY)
Irresistible
Irresistible (with video track)
Arranged by Bradley Knight
This inspiring anthem for a blended or contemporary setting with a soloist or worship leader conveys God's endless love for us. A favorite among churches throughout the country, uniting choir and congregation in worship. [Lyric video accompaniment track available to Unlimited PLUS Members.]



2-PART (EASY / MEDIUM)
Be Thou My Vision
Be Thou My Vision (Youth Choir)
Arranged by Dennis Allen / Russell Mauldin
Dennis Allens's upbeat and sparkling 2-part arrangement will find a home in your traditional, contemporary or blended service. Russell Mauldin's beautiful 2-part arrangement of this classic hymn introduces young voices to timeless words and music.



PRAISE & WORSHIP (MEDIUM DIFFICULTY)
Great Is Your Love
Great Is Your Love (with video track)
Arranged by David Lin
With an Americana feel, this modern worship anthem celebrates how deep and wide is the great love of God. [Lyric video accompaniment track available to Unlimited PLUS Members.]




PRAISE & WORSHIP (EASY)
You Are My God
Arranged by Landy Maughon
A tender worship ballad that declares who God is and gives thanks for his care and blessing over us. Arranged for the worship leader or soloist in blended and contemporary settings, and also includes harmony parts for praise team.



CHILDREN'S UNISON (MEDIUM DIFFICULTY)
Father of Light
Arranged by Dave Williamson
This upbeat prayer calls upon our heavenly Father to shine his light of truth and love upon us all. Scored for unison choir or soloist with two-part harmonies that can be sung with kids or shared with teen/adult choir members.