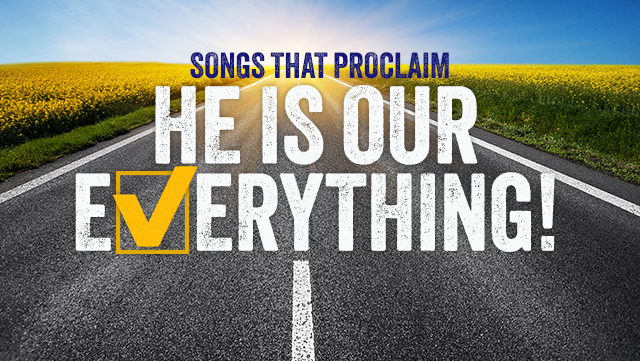 God is our everything. He is the creator of all, the Alpha and Omega. He is omnipotent and omnipresent. He is holy and just. He is righteous and sovereign. He is truth and love. He is our healer and our provider, our protector and wise counselor. He is faithful, merciful, and compassionate. He is our hope and our peace. He is our strength and our joy. He is our road, our path, the One that leads us back. He is our savior and our redeemer. He is the great I AM. He is our EVERYTHING!

Join us as we highlight a special selection of songs that express our love for God and proclaim that He is our everything. Below, we've assembled an incredible variety of songs from multiple genres ranging from blended to contemporary, and from praise and worship to gospel. There's something here for every congregation, worship setting, choir, and worship team––so lift your hearts to the Lord and let us proclaim, "He is our everything." And let everything that has breath praise the Lord!

SATB (MEDIUM DIFFICULTY)
You Are My Everything
Arranged by Jim Hammerly
A simple praise chorus that will get your congregation on their feet with a fun gospel groove! For blended and contemporary worship settings, this anthem arranged for SATB choir and could easily be used with a smaller praise team.




3-PART (EASY)
Be Everything (Contemporary)
Be Everything (Blended)
Arranged by Travis Cottrell, Regi Stone
Arranged for worship leader and 3-part choir, this powerful anthem leads us in prayer, asking God to be everything in every part of our lives. Separate versions available for contemporary services or blended settings.



SOLO (EASY)
Everything to Me
Everything to Me (with video track)
Arranged by Doug Spires & Tim Goodson
From the hearts of worship leaders Doug Spires and Tim Goodson comes this beautiful song of surrender that proclaims God is our everything and celebrates His unfailing mercy. Arranged for solo vocal, it sits well in any blended worship service. [Lyric video available to Unlimited PLUS members]



PRAISE & WORSHIP (EASY)
My Everything
Arranged by Brad & Rebekah Bichsel
A song of personal prayer that reminds us when we've fallen or come up short, God is still our everything and we live for His glory. This piece for a worship leader (that also includes harmony part for additional vocalist or praise team) would be a reverent addition to a contemporary service.



PRAISE & WORSHIP (EASY)
Everything
Arranged by Matt McCoy
With a stirring, infectious melody and earnest, simple lyrics, this song makes an ideal piece for a contemporary or blended service. For worship leader and includes harmonies for a praise team.




PRAISE & WORSHIP (MEDIUM DIFFICULTY)
Everything Worth Anything
Arranged by Mandy Joy Miller
This song has been on repeat in the Discover Worship office. The melody is woven beautifully around a simple and heartfelt lyric. Mandy Joy Miller's voice has a way of finding your heart. For worship leader or soloist, this song makes an excellent addition to a blended or contemporary service.



3-PART (MEDIUM DIFFICULTY)
Let Everything
Arranged by Bradley Knight
A glorious 3-part anthem with soloist or worship leader that pays tribute to the classic Doxology with a fun, energetic twist. This song is an exciting, enjoyable experience in praise and worship to our Lord! Appropriate for a worship team or choir in a blended or contemporary setting.



3-PART (MEDIUM DIFFICULTY)
Everything to Me
Arranged by Jim Hammerly
This 3-part light contemporary worship anthem is a wonderful song of commitment for blended and contemporary worship settings. With simple, earnest lyrics singing of Jesus making us complete, this song is an excellent reminder of all that Jesus is to us.



3-PART (DIFFICULT)
My Everything
Arranged by Clint Brown
A fresh and upbeat praise chorus with a driving rhythm that will lead your congregation to celebration! This lively 3-part choral anthem with soloist or worship leader would work well in contemporary worship settings.




GOSPEL (MEDIUM DIFFICULTY)
God Is My Everything
Arranged by Percy Gray
From the renowned Chicago Mass Choir comes this exuberant gospel anthem featuring a call-and-answer arrangement to declare the total sufficiency of God with full-throated joy and non-stop energy. Arranged for SATB choir, this piece works well in blended, contemporary, or traditional gospel settings.