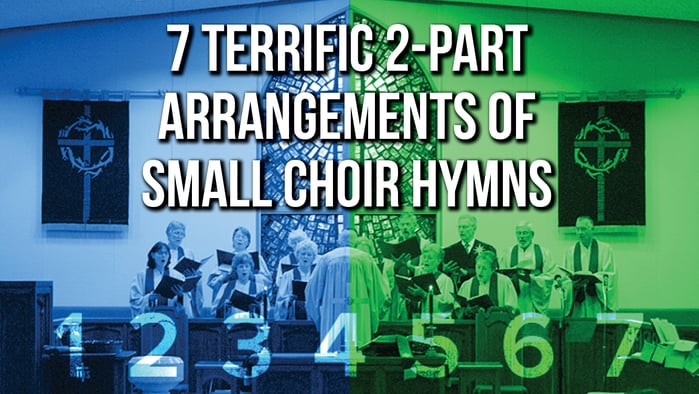 Sometimes less is more. Especially when...
You don't have enough time to rehearse a more complicated piece
You're short on singers who can cover a 4-part arrangement
You want to feature a song that resonates with young and old alike
You're going to be on vacation and want to make sure the choir is comfortable
A last-minute change of service theme means you need something the choir knows
There are lots of great reasons you might want to choose a 2-part hymn. And Discover Worship has almost seventy 2-part pieces from which to choose. Additionally, we have more than 200 hymns arranged for 3-part choir.
It's not the number of people in your choir that matters as much as their desire to honor the Lord with the talent he's given. Whether your group has 8 or 80 singers, finding the right hymn arrangement for your choir can really enhance your worship service.
Here are seven of Discover Worship's best 2-part small choir hymns:

Be Thou My Vision: This upbeat and sparkling 2-part arrangement from Dennis Allen will find a home in your traditional, contemporary or blended service.

For The Beauty Of The Earth: This elegant 2-part vocal arrangement of the traditional hymn lyric with new melody and additional lyrics comes with beautiful flute accompaniment.



How Firm A Foundation: This majestic and festive 2-part arrangement of this classic hymn by Dave Williamson works well in a traditional worship setting and provides a full, strong sound for your choir.


I Will Sing Of My Redeemer: A stirring 2-part arrangement by Fred Bock of the popular hymn, this choral anthem is a lovely piece of heartfelt worship for a traditional or blended service.



Jesus, What a Friend of Sinners: Resetting the beloved lyric to a new choral melody, Dennis Allen's accessible arrangement can be performed unison or with optional 2-part harmony.

Our Great Savior: Lively yet worshipful, this inspiring arrangement of the beloved hymn for 2-part choir would work well in blended and contemporary services.


The Comforter Has Come: Crisp and classic, this traditional choral anthem calls for precision and clarity from your singers. Arranged for 2-pt choir and piano.
Discover Worship was created in 1999 by a volunteer minister of music who believed that every choir–regardless of size or budget–deserved to have great, singable music. Browse our website at discoverworship.com to see how an annual membership can give your church access to thousands of selections.