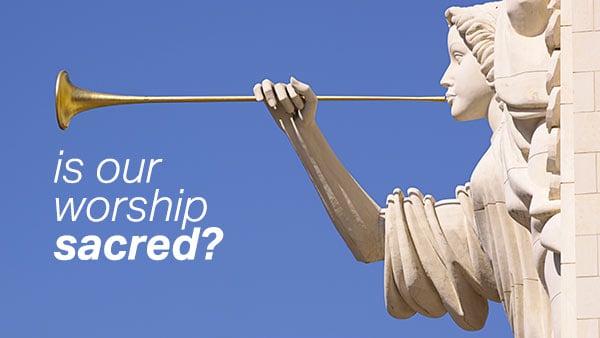 Is our worship sacred?
Not in style, but rather in attitude...
Do I approach the act of worship with the same reverence with which I approach the Subject of my worship? Asked another way: Am I "doing" worship in my flesh or in my spirit?
Our acts of worship—and even our rehearsals for corporate worship—become sacred when we set them apart for God's glory and pleasure.
But too often, the technical, musical and social aspects of choosing, rehearsing and performing music can desensitize us. We slip from comfortable to casual. Not the comfortable freedom that comes from intimacy, but rather the casual carelessness that assumes we are entitled to His presence.
If we're not careful, we can allow our familiarity with the act of worship to rob us of our reverence for the Subject of our praise. That's why its important to develop a biblical theology of worship.
In 2 Samuel 6, we find King David bringing the Ark of the Covenant back to Jerusalem. As the men transport the Ark across a rough stretch of road, the oxen pulling their cart stumble. One of David's men, Uzzah, reaches out to steady the Ark. God strikes him dead because of his "irreverent act."
What was so terribly wrong about wanting to do a good job?
David and Uzzah had disobeyed God's commands about how the Ark should be housed and carried. The Lord had instructed the Levite priests to carry the Ark on poles across their shoulders. He warned them that to touch the Ark was to die. But David and his men had grown far too casual with the sacred things of God and suffered the consequences.
While the Cross enables us to stand boldly before God's throne, there is a place in worship for godly fear and glorious reverence. Our confidence before Him comes from the awesome—and awful--price that Christ paid on our behalf.
True worship recognizes and responds to the magnitude of His sacrifice. We are undone by "love so amazing, so divine." This undoing brings us to our knees in humility and to our feet in joy. Any sense of self-entitlement is mocked by the outrageous scandal of undeserved grace.

I am convicted that those of us who have the privilege of handling sacred things should do so with tremendous awe and respect. Not that God will strike us down if we don't; but rather because we can't really lift Him up until we do.
How can we commit ourselves to "sacred" worship this week?
How can we infuse our preparation and participation with renewed awe and anticipation?
How can we be less nonchalant and more mindful of God's "utter otherness" as we approach Him?
Lord, make our worship sacred. Amen.