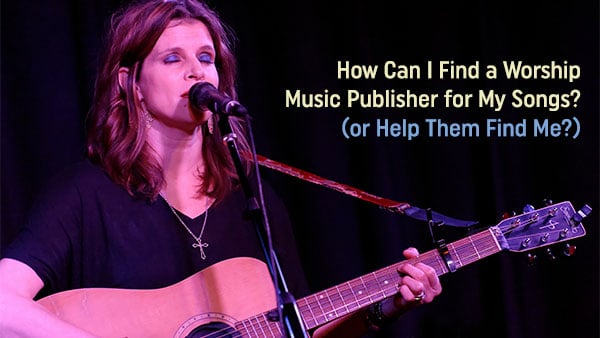 There are no easy answers to this one. But perhaps I can give you some information that will help you with your quest.
For a songwriter and publisher to generate income, a song must be embodied on a recording that is sold, streamed or licensed. Over the past twenty years, the number of songwriters, artists and albums has grown exponentially as the process of writing and recording has become more affordable. At the same time, total income from sales has dropped dramatically as consumers have abandoned traditional income-generating formats and opted for cheap or free access.
The worship music business is a subset of the faith-based music business, which is a subset of the entire music business. So it's helpful to know what's happening in the music world at large.
The
Recording Industry Association of Americ
a reports that since 1999 (adjusted for inflation), total U.S. music sales income has dropped roughly 60%, with CD sales dropping from 88% to about a third of that total percentage. In the heyday of physical CD sales, it wasn't at all unusual for a new album to sell more than 100,000 the week of its release. N'Snyc's
No Strings Attached
holds the first week record at 2.4 million units (3/21/00). At the week of this writing, the average CD in the Billboard Top Ten sold less than 43,000 units nationally, with the average Top Ten faith-based CD averaging on 3,800 units.
Because of this cataclysmic reduction in overall album sales, every part of the music business is retooling. A decade or two ago, labels were looking for songs to fill up their CDs. These days, songs are selling one at a time, and the few artists and labels that are making whole albums are trying to fill them with songs they control or co-write. Imagine a silo filling up with grain as the demand for grain goes down. That's what publisher catalogs look like: they are stuffed with inventory and fewer folks are buying…and what they're selling is generating less income per sale.
Over the past 15 years, most mainstream "mom and pop" record and bookstores have closed their doors—and even national chains have gone belly up. The faith-based retail environment is no different. Family Christian Stores, the world's largest faith-based retail chain, recently filed bankruptcy. Book, music and gift suppliers are still reeling from the economic impact.
In the faith-based music business, there are two major sources of publishing income: hit songs on hit albums from hit artists and popular songs sung by the church. High-profile worship artists like Chris Tomlin and Hillsong United are particularly profitable because their music serves both markets. There are lots of ancillary income opportunities, but these two are still king. As such, most faith-based publishers pitch their songs to major label A & R staffs in hopes that the producer and artist will be interested. And/or these publishers develop long-term strategies to introduce and nurture worship songs in the church. Both of these are fairly expensive investments, but certainly ones that can pay off over time.
Now that's we've done a reality check of the marketplace, let's return to your question of how to find a worship music publisher.
To be honest with you, most aren't looking for unproven writers. Many of them already have as many songwriters as they can effectively manage. And most of them are trying to survive the continual downsizing of their industry while developing music that honors God, serves the Church and generates income for their business.
That being said, there are great new worship songs being written and recorded by relatively new writers and artists every day. And one could make the case that—in this incredibly difficult environment—excellence is an even more compelling quality.
Here are my suggestions for what you need to do before pursuing a publisher:
1. Learn to write great songs.
It will take many years of writing average songs until before you can consistently write great ones. There are more books, videos and classes in songwriting than ever before. Commit yourself to the discipline of this craft. If it's a calling, then resign yourself to the years of faithful apprenticeship required to become a master craftsman. One of the best ways to learn what makes a song great is to carefully learn and perform songs from artists and worship leaders you admire. Spend time analyzing their rhyme schemes and melodies. What makes their songs special? Move from imitation to innovation. What can make your songs special? After you've written that "perfect song," see how effective it is in from of real people.
2. Find ways to record and distribute great songs online.
If you're more concerned with getting your music heard than monetized, you might have a chance at both. If you have a small budget, it's better to produce three or four songs well than 10 or 12 songs poorly. Live worship audio and video recordings have the virtue of showing that your music can be effective in a congregational setting. Good microphones and decent lighting makes a big difference. Consider shooting some live footage and using the audio (or remixed audio if it comes through a sound board) for audio uploads on sites like
SoundCloud
.
CDBaby
offers digital download services as well as access to streaming services. The biggest outlet is still YouTube, with over one billion subscribers. Consider doing simple "lyric videos" for your songs with iMovie as well as "how to" instructional video clips. Don't try to be too fancy: make them clean and elegant. Then systematically share links to your clips through your social media outlets.
3. Don't count on making your living in the music business.
A decade and a half of American Idol have led us to believe that our big break is just around the corner. It isn't. It's up a long, steep hill. Even the apostle Paul, who wrote a third of the New Testament, made his living as a tent-maker. He was more interested in The Great Commission than a great commission. Making a living in the music business is a blessing, not an entitlement. The Lord may be calling you to use your talent for him, but not necessarily to make your living from your talent. So finish college. Develop marketable skills. Build your resume. Work a day job. Pay rent. Live on a budget. Practice good stewardship. Build an emergency fund. Love your family. Use your gifts faithfully. If the Lord opens the door for you to make your living in music, then realize it might only be for a season (like everything else in life). Don't bet your fortune, relationships and reputation chasing your "big break." There's a reason Nashville is nicknamed "Nash-Vegas." Rather than gambling, invest wisely in your craft and career and the Lord will bless you as he sees fit.
Once you are writing consistently good songs and developing an immediate online audience for your music—all the while earning an honest living—you may be ready to find a publisher (or to be found by one). As I mentioned above, most publishers are doing everything to survive and serve the writers and catalogs they already have. To get their attention, your music will have to be extraordinary (emphasis on "extra"!).
Consider entering some reputable songwriting competitions hosted by established worship leader companies. Consider joining the Gospel Music Association (
gospelmusic.org
) and taking advantage of their resources and networking opportunities. Look at finding a local chapter of the Nashville Association of Songwriters International (
nashvillesongwriters.com
). Do the hard work. Be a good steward. God measures success by your faithfulness, not by your royalty check.
Thanks for asking; I hope this helps!