Welcome to our preview of Peaceful Moments: Spring. This picturesque instrumental video collection was created specifically for times of prayer, reflection, and special moments in your worship services. Nature springs to life with the sound of worship in our newest addition to the Peaceful Moments series!
Designed to compliment your worship services, Peaceful Moments: Spring will encourage your congregation to focus on the goodness of God and the importance of the moment. This contemplative video collection is the perfect instrumental companion for times of prayer, giving, communion, altar calls, and baptisms. For greetings, announcements, and for incoming and outgoing congregations. For any time where peaceful, instrumental music would be appropriate.

Spring, our latest entry to the Peaceful Moments series, features three timeless piano arrangements by Regi Stone and Jim Hammerly. These beautifully performed pieces are accompanied by equally beautiful videos that fully display the wonder of God's creation. The sheet music for each of the songs in the Peaceful Moments series is included so your pianist can perform alongside the videos or you can simply play the instrumental videos for a seamless transition.

Peaceful Moments: Spring features the following instrumental videos:
All Creatures of Our God and King
I Surrender All
His Eye Is on the Sparrow
Discover Worship is developing the Peaceful Moments series to include seasonal videos for Winter, Spring, Summer, and Fall. Of course, these songs and videos can be used any time throughout the year, but you'll have the option of choosing seasonally appropriate videos as the series grows. The Peaceful Moments video collection is available exclusively to our Unlimited PLUS members.
---

For more information or to download the following titles from the Peaceful Moments series, just click on the links below!
Peaceful Moments: Spring
From green meadows and wooded forests to lush mountain flora and cascading waterfalls, our Spring collection creates space for contemplation and draws us into a place of worship and reflection.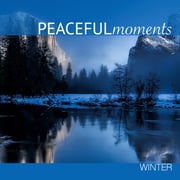 Peaceful Moments: Winter
Featuring majestic mountain peaks, glistening trees, and freshly snow-covered hills, our Winter instrumental video collection will compliment your worship services with the glory of God's creation.