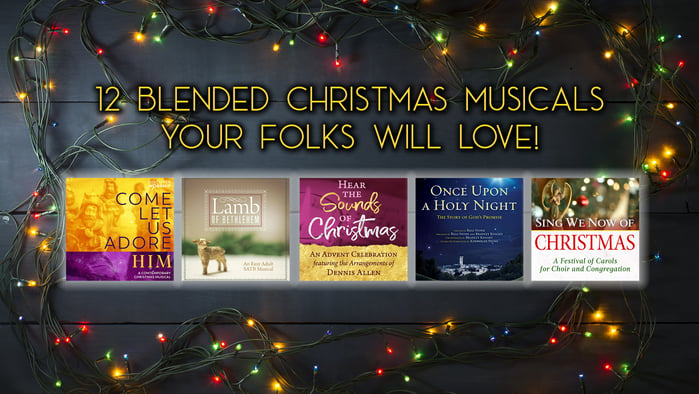 What exactly is a "blended" Christmas musical? Well, it's a means to celebrate the coming of Christ with musical elements that engage more traditional congregants as well as those who enjoy a fresh, contemporary approach. Contrary to popular belief, "blended" is not an equal opportunity offender; rather it's how many Discover Worship churches choose to honor the culture and tastes of young and old alike. "Blended" is how the Body of Christ ideally looks and sounds. As such, we're honored to suggest 12 Christmas works with a blended feel for your choir's consideration this season!

CALL HIM JESUS: Arranged by Dennis Allen, Russell Mauldin, and others, this work is perfect for a church wanting a little more contemporary approach to the Christmas celebration. This narrated experience guides the listener through the traditional Christmas story with a variety of songs and carols both upbeat and contemplative.



Christmas, Night of Angels!: Joseph and Mary narrate this half-hour, 7-song traditional Christmas musical which tells the story through the six angel visitations recorded in Scripture. Features original compositions as well as such beloved carols as "Come Thou Long Expected Jesus," "Silent Night," and "Away In a Manger."


COME LET US ADORE HIM: Upbeat and contemporary, this fresh 9-song, 39-minute celebration re-imagines "How Great Our Joy," "O Little Town of Bethlehem," "Angels We Have Heard on High" along with such modern favorites as "How Many Kings?" and "Let Us Be." Includes solos, duos, 3-part & SATB plus crisp narration for two.



FALL ON YOUR KNEES: Experience the power and passion of the Christmas season with "Fall On Your Knees," a 45-minute praise and worship musical overflowing with all-time Christmas favorites and new worship songs arranged by John Patrick that will unite your congregation and community in praise to the Savior.



THE GLORIOUS STORY OF CHRISTMAS: A full-length (40+ minute) SATB musical with narration and optional orchestration that takes choir and congregation back down the familiar road to Bethlehem to realize the glorious truth that has God invited all of us into his story! Easy to medium difficulty arrangements.



HEAR THE SOUNDS OF CHRISTMAS: Bright and uplifting, familiar yet fresh, these 8 easy SATB arrangements from Dennis Allen celebrate the miracle of Christmas in a simple and straightforward way. This 30-minute musical works in worship settings ranging from light traditional to light contemporary. Includes conversational narration.



LAMB OF BETHLEHEM: These 8 singable selections from some of your favorite arrangers are brilliantly woven together with scripture and insightful narrations focusing on Jesus as the Lamb of God. Stylistically appropriate for blended to light contemporary worship settings. 35 minutes long.



ONCE UPON A HOLY NIGHT: With a fresh approach, this musical delivers the Christmas message with a diverse score arranged by Bradley Knight and a compelling drama. Biblical characters reflect on the arrival of the Messiah with thoughtful monologues, weaving the story into worshipful songs. Full Orchestration available.



SING WE NOW OF CHRISTMAS: Invite your congregation and community to experience the Good News of Christmas by singing along with 15 beloved carols beautifully arranged for traditional/blended choir. 30 mins. Original narration and scriptures culminate in an invitation. Optional video accompaniment tracks available for downloading.



STAR OF WONDER: Dennis & Nan Allen have paired the biblical story of the Magi's quest for the newborn Christ with Christmas songs both new and familiar in a story about trust, faith, and the blessings of following God. Includes SATB arrangements, parts for 9 actors and a narrator, and runs less than 30 minutes.



STORIES OF CHRISTMAS: From the African Plains to the campfires of a cattle drive, from the road to Grandma's house to battlefields halfway around the world, Stories of Christmas looks at the various ways that Christmas is celebrated and how all of our stories bow to THE story of Christ's birth. Arranged by Kris Crunk. 36 minutes in length.



THE INNKEEPER'S DAUGHTER: This upbeat 30-minute, 7-song Christmas musical with 9 speaking roles tells the Bethlehem story through the eyes of a fictional innkeeper's daughter. Arrangements by Dennis Allen, Jeff Lippencott, Russell Mauldin, Dave Williamson, and more feature original songs as well as favorite carols.



Don't forget: Unlimited Members get unlimited download access to more than 70 of Discover Worship's seasonal musicals, mini-musicals, suites and collections PLUS all available audio and video accompaniment tracks and orchestrations! There's no better value in the church music marketplace. If you're not yet a member, CLICK HERE to see how little your church would pay for an annual membership!
--Check out these other Discover Worship blogs about Christmas Musicals for Church Choirs: