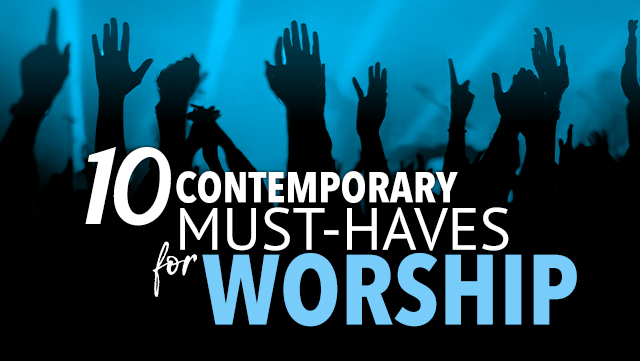 Come explore 10 of Discover Worship's contemporary must-haves for worship! Ranging from contemporary to modern, these incredible worship pieces will become favorites for your choir, worship team, and congregation! Ranging from contemplative mid-tempo to upbeat and energetic, these easy to medium-difficulty anthems will fit well in your blended and contemporary worship services.

Featuring songs by some of the best worship leaders, writers, and arrangers in the church today, our list showcases an excellent variety of contemporary music that you can easily incorporate into your worship services!

---

SATB (MEDIUM DIFFICULTY)
Unshakable
Arranged by Debi Selby, Jonathan Allen
A declaration of confidence in God our Rock and our Fortress, this powerful but singable song from Grace Chapel Worship works as a contemporary anthem for your choir and congregation. Arranged for soloist or worship leader + 4-part choir.



SATB (EASY)
There Is Power in the Blood
Arranged by Regi Stone, Chad Cates
This anthem of worship has a driving beat and powerful message that works well in modern or blended services. The arrangement for worship leader/soloist + 4-part choir or ensemble is simple and singable for both choir and congregation.



PRAISE & WORSHIP (MEDIUM DIFFICULTY)
Holy Spirit, Come
Arranged by Daniel Fusco, Jason Ritchie, Jessie Miller, Jeremy Thompson, Chris Hoisington, Anthony Hoisington, Brian Engle, Kate White, Mariah Meredith, Jeff Jansen
A pop ballad with passionate conviction, this modern worship anthem is a heartfelt prayer for the Holy Spirit to guide and empower our lives. Also suitable for youth worship.




PRAISE & WORSHIP (MEDIUM DIFFICULTY)
Relentless
Arranged by David Glenn, Jason Cox
A triumphant celebration of God's forever faithful love and grace, this strong contemporary praise anthem works well with a worship leader and band or as a solo/ensemble piece. Also included: optional string charts.



3-PART (EASY)
Glorious
Arranged by

Trent Smith
From worship leader Trent Smith, "Glorious" builds with an engaging lyric and melody, ramping up to a powerful bridge and moving final tag. With parts for leader/soloist and 3-part choir or praise team, this contemporary anthem could easily be adapted for worship leader alone.




3-PART (MEDIUM DIFFICULTY)
More
Arranged by Jonathan Allen
A heartfelt praise chorus that sings of our desire for more of Jesus, this expressive piece for a soloist and 3-part choir, ensemble, or a worship leader and praise team would work well in contemporary settings.




PRAISE & WORSHIP (EASY)
Your Love
Your Love (with video track)
Arranged by Dino Ascari
A vibrant modern worship song that encourages us to trust the goodness of God in both good and difficult circumstances. [Lyric video accompaniment track available to Unlimited PLUS Members]



PRAISE & WORSHIP (EASY)
You Are Greater
Arranged by Brad Bichsel, Rebekah Bichsel
We listen to this song in the Discover Worship office often! This worship anthem is on many church set lists and we hope you'll find it accessible for your contemporary worship setting. Arranged for worship leader / soloist and also includes harmony part for additional vocalists.



PRAISE & WORSHIP (EASY)
Breathe
Breathe (with video track)
Arranged by Regi Stone, Jeff Ferguson
From Regi Stone, this simple, quiet ballad is a modern worship prayer that will encourage your church to "trust the Lord in everything...and breathe." [Lyric video accompaniment track available for Unlimited PLUS Members.]



PRAISE & WORSHIP (EASY)
We Cry Holy
Arranged by Ashley Beckford, Jeff Jansen
With a driving rock groove, this passionate worship anthem is a full-throated exclamation of praise that will stir hearts to exalt our holy God. Perfect for youth services or contemporary worship.