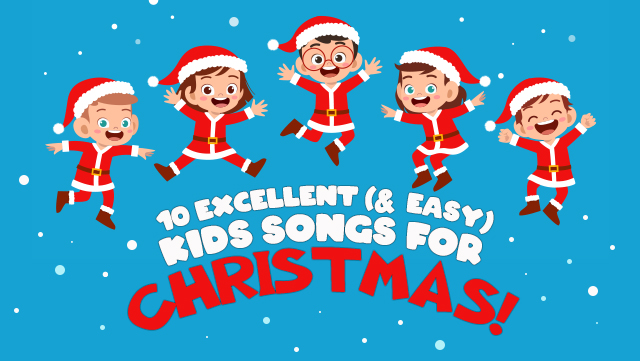 Christmas is the most wonderful time of the year, and it wouldn't be the same without the joy kids bring and the songs that they sing! Come along with us as we explore 10 Excellent (& Easy) Kids Songs for Christmas! As we inch our way closer to the upcoming Christmas season, this is a great time to start thinking about special music for your Christmas services.

Planning music for Christmas can present some challenges as our schedules tend to get busier around the holidays with travel plans, family gatherings, etc., and coordinating music for kids can present a number of unique challenges as well. But it is so worth it! Your kids will love it, your congregation will love it, and so will you! Kids are such a blessing and there's something truly special about seeing the joy on their faces and hearing the sound of their voices as they worship the Lord.

We hope you'll enjoy the following song selections and consider adding some special kids music to your upcoming Christmas worship services. The songs below were specifically chosen to help accommodate everyone's busy schedules and make things a bit easier to plan and prepare for. Join us as we explore these excellent and easy kids songs for the Christmas season!



CHILDREN'S UNISON (EASY)
All Because Jesus Is Born
Arranged by Jeff Lippencott
An adorable, easy-to-learn Christmas song for children's choir or ensemble. Use for a special moment in your Christmas musical or as a part of a Sunday morning service.




CHILDREN'S UNISON (EASY)
Angels from the Realms of Glory
Arranged by Dennis Allen
Arranged for unison children's choir, Dennis Allen's rendition of the beloved Christmas carol boosts the simple vocal lines with a driving rock groove. Sure to bring energy to any service in the Advent season.




CHILDREN'S UNISON (EASY)
Away in a Manger
Arranged by Paul Marino
Perfect for young voices, this gentle acoustic arrangement of the timeless carol features simple unison vocals, an optional solo and modern instrumentation that will fit any service in the Christmas season.




CHILDREN'S UNISON (EASY)
Every Little Angel
Arranged by Stan Morse
A bouncy, unison account of what the angels experienced that first Christmas night in Bethlehem. Add this to your adult cantata or consider having your children's choir perform the whole mini-musical of the same title!




CHILDREN'S UNISON/2-PART (EASY)
Go Tell It on the Mountain
Arranged by Russell Mauldin
A smooth, jazzy, finger snappin' 2-part gem by Russell Mauldin that would feel right at home in "A Charlie Brown Christmas." Perfect for kids, teens and simple adult ensembles!




CHILDREN'S UNISON (EASY)
How I Wish (That I Could Have
Been There Then)
Arranged by David Huntsinger
From arranger David Huntsinger, this precious, melodic ballad is sure to warm hearts during the Christmas season. Arranged for child solo or unison children's choir.



CHILDREN'S UNISON (EASY)
Imagine a World Without Christmas
Arranged by Kris Crunk
Jeff Ferguson and Regi Stone bring this beautiful reminder of just how special the Christmas season truly is. Features child's solo with unison (optional two part) children's choir.




CHILDREN'S (EASY)
Joy to the World
Arranged by Travis Cottrell, Paul Marino
This driving, contemporary unison version of the traditional carol is fun for younger and older kids choirs alike. For that matter, simple adult choirs might consider making this Travis Cottrell arrangement the finale of their Christmas program!



CHILDREN'S UNISON (EASY)
Sing with the Angels
Arranged by Kyle Hill
A true gem, Sing With The Angels (for children's choir with child's solo) is a tender modern worship song for Christmas that warms the heart and will bring your congregation to a place of worship.




CHILDREN'S 2-PART (EASY)
The First Noel
Arranged by Dave Cleveland
A driving rock arrangement of the classic Christmas carol that your children's choir is sure to enjoy. With optional 2-part harmony.