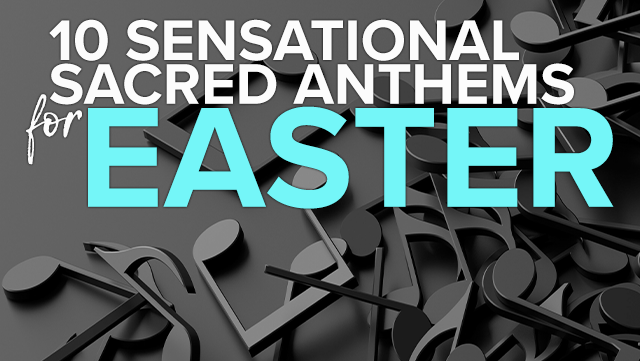 by Jaymey Hardin

In this special feature, we'll take a look at 10 Sensational Sacred Anthems for Easter! These anthems range from easy to difficult and include SATB and 2-Part arrangements by Dennis Allen, Russell Mauldin, Robert Sterling, Hal Wright, and many more!

These treasured pieces will work best in traditional or blended worship settings and can be used anytime throughout the year, but are perfect for your upcoming Easter services! To learn more, simply click on the links below to preview the sheet music and audio demo. We hope you'll enjoy!

---

SATB (MEDIUM DIFFICULTY)
Alive!
Arranged by Dennis Allen
This hopeful anthem boldly proclaims the resurrection of Jesus Christ and His victory over death and the grave. It also serves as a powerful and comforting reminder that those who've passed away believing in Christ will live with Him on high!



SATB (EASY)
Christ the Seal of Death Has Broken
Arranged by Russell Mauldin, Wes Ramsay, Carol McClure
Fanny Crosby's lyrics. Haydn's melody. Mauldin's arrangement. A simple, elegant, traditional hymn that celebrates the meaning of Christ's resurrection.





SATB (MEDIUM DIFFICULTY)
Hallelujah Chorus
Arranged by Joe Linn
If you've been shying away from learning the "Hallelujah Chorus" because you thought it was too rangy and the piano accompaniment looked too difficult, then this version is for you. Edited by Joseph Linn, this classic and timeless piece is a must for your music library.



SATB (MEDIUM DIFFICULTY)
He Was Despised
Arranged by Hal Wright
This beautiful, 4-part arrangement from Isaiah 53 is also suitable to be sung a cappella. Traditional, yet timeless. For Easter or any time.





SATB (MEDIUM DIFFICULTY)
Jesus Carried the Cross
Arranged by Edwin Willmington
Poignant and powerful, this traditional SATB anthem conveys the pathos you would expect walking the road to Calvary.





SATB (MEDIUM DIFFICULTY)
Jesus Christ Is Risen Today
Arranged by Bill Wolaver
Rich and regal, this traditional SATB arrangement of the classic hymn powerfully communicates the glory and majesty of the resurrected Christ!





SATB (MEDIUM DIFFICULTY)
Jesus Is Risen Rejoice
Arranged by William David Young
This inspiring Easter fanfare for a traditional or blended service celebrates the miracle of Christ's resurrection with traditional hymn lyrics and 4-part vocal flourishes. Also incorporates the melody of "Revive Us Again."




SATB (MEDIUM DIFFICULTY)
Keep Me Near the Cross
Arranged by Fred Bock
Fred Bock's fresh yet familiar SATB arrangement of Fanny Crosby's comforting hymn ministers peace and strength. Works well in traditional or blended worship settings.




SATB (MEDIUM DIFFICULTY)
Let Us Not Forget
Arranged by Robert Sterling
A moving retelling of Jesus' pain-filled sacrifice, this SATB anthem works well for Lent and particularly Good Friday in both traditional and blended worship settings.




2-PART (DIFFICULT)
O Sacred Head Now Wounded
Arranged by David McKay
A sophisticated new musical setting of the traditional lyrics for 2 part choir & soloist that communicates the poignancy and passion of Christ's sacrifice. Check out the alternate version with live SATB choir and organ. Serves well in traditional and blended services alike.