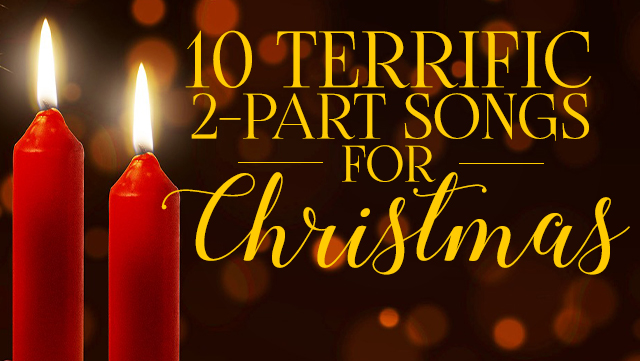 Discover Worship offers hundreds of Christmas songs, all of which are available for immediate download and reproduction for our Unlimited PLUS Members. Featured below are 10 Terrific 2-Part Songs for Christmas that are easy to learn and fun to sing! These beautiful 2-Part pieces are sure to find a welcome home in your times of worship this holiday season.

We know this Christmas will look different than those in the past and social distancing may still be necessary. These terrific 2-part songs offer a simple solution as they can be performed by fewer singers and musicians and require less time to prepare and rehearse. Click on each of the titles to preview the audio and PDF of the entire work.


Adoration Medley: Ready in one rehearsal, this simple medley of "What Child Is This" and "Silent Night" features two solos and 2-part choir. A perfect last-minute addition for a Sunday in December.

Alleluia! Song of Gladness: Sheldon Curry has turned the traditional anthem "Alleluia! Song of Gladness" on its head with this celebratory arrangement, set to a traditional Jewish melody. The energy and intertwining parts are fun for any choir and congregation!



Come Let Us Worship Him:
An excellent, uptempo 2-part addition to a Christmas concert or musical! Can be used as the shepherds' song. [Full orchestration available to Unlimited PLUS Members]

Go Tell It On The Mountain: A smooth, jazzy, finger snappin' 2-part gem by Russell Mauldin that would feel right at home in "A Charlie Brown Christmas." Perfect for kids, teens and simple adult ensembles!



Good Christian Men, Rejoice!: Arranged for the small choir, this rendition of the beloved Christmas carol features unison singing with moments of 2-part and a 3-part ending. Ready in one rehearsal!



He Is Born!: A grand medley of Christmas songs including Angels from the Realms of Glory, The Birthday of a King, and the traditional French carol, He Is Born, this easy arrangement features unison choir with a few moments of 2-part and a simple 3-part ending. Ready in one rehearsal!

Lights Blinkin' Bells Ringin' Christmas: This bluesy number will conjure images of Christmases gone by. Great for a female duet or 2-part women's ensemble! A fun addition to Christmas programs or services in any style of worship service.



O Come, O Come, Emmanuel : A fresh two-part arrangement of this classic carol for children's choir and soloist that captures the beauty and mystery of this Old Testament prophecy of the coming Messiah. Appropriate for younger as well as older groups.



On This Christmas Morning: A majestic lyric and melody frame the Christmas story in an elegant 2-part arrangement that inspires worship and awe and would work well in traditional, blended, and contemporary services alike. Works equally well for older children's choir, youth choir, or adult choir.



Shepherds Medley: A medley of The First Noel and Hark! the Herald Angels Sing, this easy Christmas arrangement features 2-part choir with a few well-chosen moments of 3 parts and a full SATB finish. Ready in one rehearsal!


Discover Worship offers thousands of fully pre-viewable and instantly downloadable pieces of great church music... including dozens of 2-Part songs at one low annual price - tiered to your average congregation size. Click here to find out how little an annual membership costs!