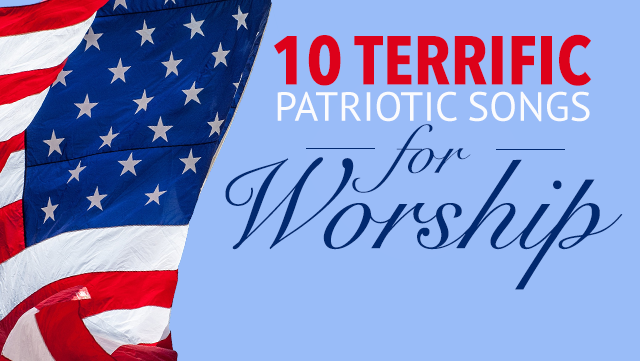 Discover Worship offers more than 30 Patriotic Songs, all available for instant download, unlimited copying, and use to our members. Featured below are 10 Terrific Patriotic Songs for Worship that your congregation will love to sing! We thank God for our country and as we pray for our nation, these beautiful anthems are a perfect fit for your worship services, especially around U.S. Armed Forces Day, Memorial Day, Independence Day, and beyond. Simply click on the titles below to preview the entire audio demo and sheet music for each piece!


SATB (EASY)
All Over This Land
Arranged by Dave Williamson
This patriotic SATB anthem gives thanks to God for this land of hope and freedom while reminding us to trust the future to Him.





SATB (MEDIUM DIFFICULTY)
America the Beautiful
Arranged by Kris Crunk
A beautiful and majestic presentation of one of the most beloved patriotic songs, yet contemporary enough to also be at home in a blended service.





SATB (MEDIUM DIFFICULTY)
Battle Hymn of the Republic
Arranged by Dave Williamson
Dave Williamson's elegant, traditional SATB arrangement (w/optional children's choir) includes a beautiful a cappella section that makes this the definitive "go-to" arrangement for your patriotic celebration.




SATB (EASY)
God of Our Fathers
Arranged by Bruce Greer
Bruce Greer's straight-forward and majestic SATB arrangement of this patriotic hymn will inspire your congregation (and give your pianist a workout)!





SATB (EAST)
I Will Heal Their Land
Arranged by Tom Fettke
This SATB choral anthem sings through both 2 Chronicles 7:14 as well as a portion of America The Beautiful. An arrangement that is both patriotic and convicting, this piece would work well in a blended or traditional setting.





A CAPPELLA / SATB (EASY)
My Country, 'Tis of Thee
with America the Beautiful
Arranged by Keith Christopher
A gentle, singable a cappella medley of two patriotic favorites that celebrates America's heritage of faith and liberty. For SATB choir, this piece is adaptable and would work well in a variety of patriotic services: from traditional to contemporary.


SATB (MEDIUM DIFFICULTY)
One Nation
Arranged by Camp Kirkland
Perfect for a summer patriotic service, this dramatic choral declaration of hope calls America to seek after God and for Christians to live in unity with one another. For a 4-part choir, this song would work well in traditional, blended, and contemporary services alike.




SATB (MEDIUM DIFFICULTY)
The Flag Still Waves
Arranged by Kris Crunk
Beginning with stirring narration, this modern patriotic ballad features a strong soloist and backing 4-part choir. Perfect for July 4th services.



A CAPPELLA / SATB (MEDIUM DIFFICULTY)
The Star-Spangled Banner
Arranged by Dennis Allen
Dennis Allen's dynamic a cappella SATB arrangement of our national anthem calls for strong singers and delivers a dramatic moment for any patriotic service.




2-PART (EASY)
The Star-Spangled Banner
Arranged by Stan Pethel, Greg Skipper
An upbeat and singable 2-part arrangement of America's national anthem that ends with a rousing flourish! Includes both split and stereo accompaniment track options.