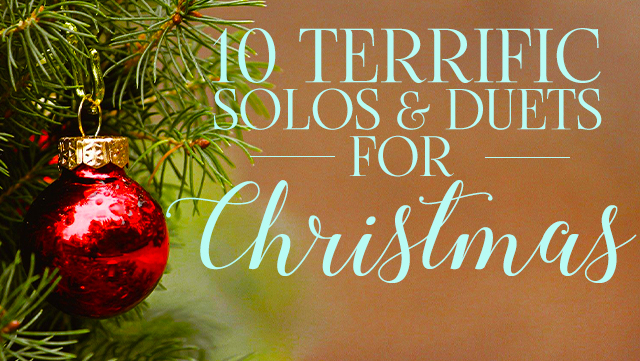 Discover Worship offers hundreds of Christmas songs, which are available for immediate download for our Unlimited PLUS Members. Featured below are 10 simple to learn and fun to sing solos & duets for the holiday season! These wonderful songs will fill your heart with joy this Christmas as you worship.

We know this Christmas will look different than those in the past and social distancing may still be necessary. These terrific solos & duets are a great alternative as they can be performed by fewer singers and musicians and require less time to prepare and rehearse. Click on each of the titles to preview the audio and PDF of the entire work.


A Star Is Born: This touching solo reminds us that Christ Jesus, the Morning Star, was born to light the way for the world and lead us to the break of day.



As I Hold You: This beautiful and moving solo from Mary's perspective will be perfect for any Christmas service. Optional SATB choir provides background vocals.




Christmas Hymn: Perfect for any service in the Christmas season, this simple yet fresh ballad features a vocal solo and a pleasing acoustic accompaniment. Appropriate for a small worship band.

God Rest Ye Merry Gentlemen: A fresh and poignant piano-driven solo rendering of the traditional carol that brings the hope of true comfort and joy to the world-weary.




Just Like You: A contemporary song for soloist performed from Joseph's point of view, this ballad finds Jesus' earthly father crying out to the Lord on the night of Christ's birth, asking for guidance for parenthood. [String Parts available to Unlimited PLUS Members]



My Soul Magnifies The Lord: Mary's song is brought to life by the capable talents Lowell Alexander and Russell Mauldin. A beautiful solo selection for your Christmas services!




O Come All Ye Faithful w/ O Holy Night: Karen England & Nancy Groeneveld have arranged these two beloved Christmas carols into an easy contemporary setting for duet or ensemble. Recorded by actual church musicians, these songs are as musically accessible as they are fresh and joyful!


O Come, O Come, Emmanuel : Arranged for strong tenor soloist, this simple and beloved piece would be a beautiful addition to any traditional, blended, or contemporary worship service at Christmastime.



Something Greater Here: This emotional duet between Joseph and Mary, written by Kristie Braselton, takes a real world view of the unique viewpoint of this blessed couple. Great for a Christmas musical or as an aid to a seasonal sermon series!




The Holly And The Ivy: For soloist or a duet, this contemporary arrangement of the traditional Christmas song is pleasing to the ear with its flowing melody and familiar lyric. Works well in any worship setting, from traditional to contemporary.


Discover Worship offers thousands of great pieces of church music that can be fully previewed and instantly downloaded, including dozens of solos and duets at one low annual price - tiered to your average congregation size. Click here to find out how little an annual membership costs!