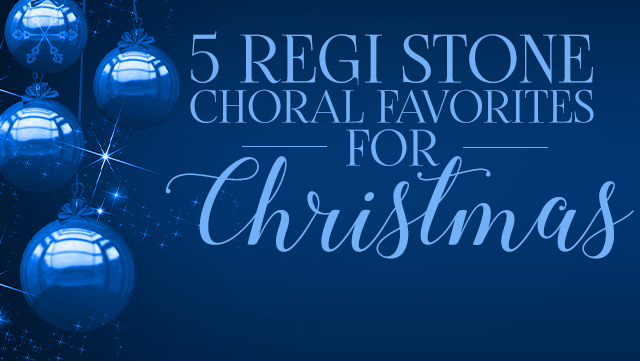 by Jaymey Hardin

The following list highlights 5 choral Christmas favorites from artist, arranger, and worship leader, Regi Stone! Discover Worship is pleased to offer more than 260 of his works, and below we've featured 5 of his very best Christmas choral pieces. These soul-stirring songs will add something special to your worship services and your choir, worship team, and congregation will all love singing these incredible anthems this Christmas!

Simply read the descriptions below and click on the links to listen to the full audio demo for each of these incredible Christmas pieces!
---

CHRISTMAS SATB (MEDIUM DIFFICULTY)
Silent Night (God's Great Love)
Silent Night (God's Great Love) w/ Orchestra
Arranged by Cliff Duren
From Regi Stone and Jeff Ferguson comes a beautiful reimagining of the cherished Christmas hymn, with new lyrics celebrating the life-changing power of the love of God. This arrangement is for SATB choir, and has an optional orchestration for Unlimited Plus members.



CHRISTMAS SATB (MEDIUM DIFFICULTY)
Alleluia! Christ Has Come
Arranged by Phillip Keveren
Phillip Keveren's tapestry of anticipation turns to joyous celebration at the birth of Christ and features "Angels We Have Heard on High." Great opening song for a Christmas service or musical for traditional, blended or contemporary music settings.



CHRISTMAS SATB (MEDIUM DIFFICULTY)
Jesus, Messiah
Jesus, Messiah (w/ Video Track)
Arranged by Dave Williamson
One of our most popular and cherished Christmas anthems, this wonderful SATB ballad has been masterfully arranged by Dave Williamson, and reverently brings honor to Christ's birth and works well in a variety of worship services. [Lyric video accompaniment track available for Unlimited PLUS Members]



CHRISTMAS SATB (MEDIUM DIFFICULTY)
My Soul Does Magnify the Lord
Arranged by Camp Kirkland
This gospel-inflected praise anthem is a passionate musical setting of Mary's Song recorded in the Book of Luke. Arranged for female solo and SATB choir.





CHRISTMAS SATB (MEDIUM DIFFICULTY)
Once Upon a Holy Night
Arranged by Bradley Knight, Regi Stone
With a fresh, energetic approach, this musical delivers the message of Christmas with a diverse score and a simple, compelling drama. Biblical characters reflect on the arrival of the Messiah with thoughtful monologues, weaving the story into the songs that are cinematic & worshipful.