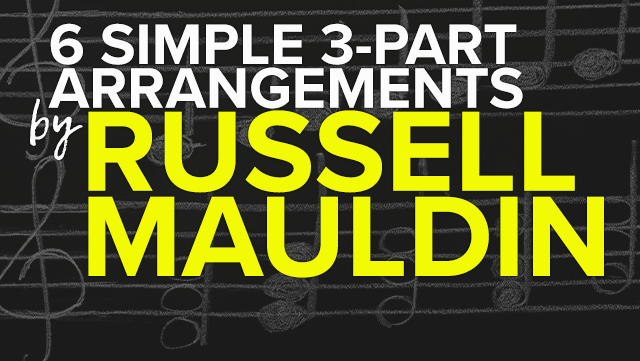 by Jaymey Hardin

In this feature, we'll explore a short list of simple 3-Part arrangements by Russell Mauldin. From women's ensemble to full choir, and from traditional to contemporary, we've curated a list that includes some of Mauldin's most loved arrangements!

Ranging from easy to medium difficulty, these simple but beautiful selections will work well in any church setting and offer an incredible worship experience for your congregation. These pieces are simpler to perform and will satisfy a variety of musical tastes. To preview the full sheet music and audio demo, simply click the links below!

---

3-PART (EASY)
And Can It Be
Arranged by Russell Mauldin
Russell Mauldin has taken this beloved Wesleyan hymn and elegantly arranged it for a women's ensemble or 3-part choir--making it suitable for almost any worship setting.




3-PART (EASY)
I Surrender All
Arranged by Russell Mauldin, Luke Woodard
Adapted from Russell Mauldin's excellent SATB arrangement, this 3-part version provides simple yet beautiful parts that your choir can learn in one rehearsal.




3-PART (EASY)
In Your Presence, Praise
In Your Presence, Praise (w/ video track)
Arranged by Russell Mauldin, Luke Woodard
A beautiful anthem of praise and adoration, this contemplative piece will be well received in traditional, blended, and contemporary services alike. For 3-part choir, this worshipful refrain beckons us into His presence with praise. Also available as an SATB arrangement. [Lyric video accompaniment track available for Unlimited Members.]



3-PART (EASY)
Jesus Saves
Arranged by Russell Mauldin
Russell Mauldin's upbeat, 3-part arrangement of this hymn favorite works in your traditional or blended worship setting at Easter or throughout the year.





3-PART (MEDIUM DIFFICULTY)
Only the Son of God
Arranged by Russell Mauldin
For 3-part choir and competent soloist, this passionate praise and worship anthem compels us to recognize and respond to Christ's unique person and work on our behalf. For blended and contemporary worship settings.




3-PART (EASY)
When I See Him
Arranged by Russell Mauldin, Luke Woodard
Ideal for blended or light-contemporary settings, arranger Luke Woodard has scaled Russell Mauldin's wonderful arrangement for soloist + SAB choir to bring us this comforting reminder of God's love for us and the promise we have of spending eternity in His presence. SATB version also available.