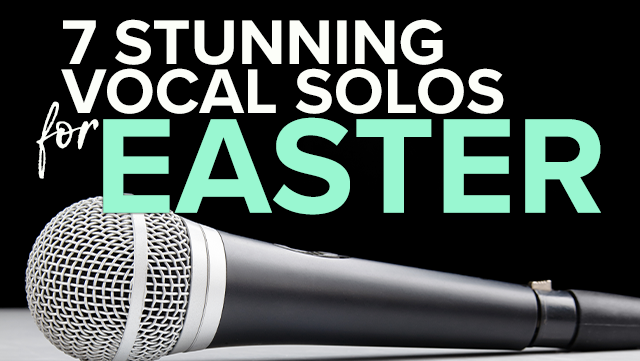 In this special feature, we'll present 7 Stunning Vocal Solos for Easter! From easy to medium difficulty, these vocal solos range from contemporary to traditional and offer something for every musical taste! If you're looking for a special number for your soloist or for a last-minute addition for your Easter services–look no further, we've got you covered!

With stunning arrangements by Luke Woodard, Regi Stone, Jeff Lippencott, Kristie Braselton, Kyle Hill and more, you're sure to find the perfect piece for you Easter service! Celebrating the resurrection of our Savior, these beautiful solos will work perfectly in your Easter worship services and beyond!
---

SOLO (EASY)
Crown of Thorns
Arranged by Luke Woodard
A deeply moving reflection on the crucifixion of Christ, this heartfelt ballad considers the thorns' symbolism in the tragedy of the cross, the sacrifice for sin, and the crown of His resurrection and victory. Arranged for voice, piano and cello. 3-part choir version also available.



SOLO (EASY)
Embrace the Cross
Arranged by Jeremy Horn
Modern worship leader Jeremy Horn offers this contagious, guitar-driven call for believers to glorify the resurrected Savior by living the life of sacrifice embodied in the Cross. Powerful and memorable, this contemporary piece for a worship leader includes harmony parts for additional voices.



SOLO (MEDIUM DIFFICULTY)
Enter Paradise
Enter Paradise (w/ video track)
Arranged by Regi Stone, Jason Webb
Using the grace-filled words Christ whispered from the cross, this song evokes imagery of the gift Jesus gave. With a fresh treatment of well known scriptural texts, this piece is simple, yet worthy of addition to our varied Resurrection celebrations. [Video track available to Unlimited members.]



SOLO (MEDIUM DIFFICULTY)
I Will Glory in the Cross
Arranged by Jeff Lippencott
Arranged for soloist, this special piece reminds us to find wonder in Christ's gift of the Cross and would work for a variety of worship service styles.




SOLO (EASY)
It Was Finished on the Cross
Arranged by Kristie Braselton
For blended and contemporary worship settings, this stirring solo (w/optional harmony at the end) provides a compelling picture of Christ's sacrifice for our freedom on the cross.




SOLO (MEDIUM DIFFICULTY)
Man from Galilee
Arranged by David Das
This contemporary, melodic piece for a soloist sings of Jesus' life as a man on earth–would make an excellent special piece during the Easter season.

SOLO (EASY)
The Way of Sacrifice
Arranged by Kyle Hill
Heartfelt and moving, this piece brings out the meaning of Easter in such a poignant way. Using 4-part choir as backup for the soloist, it would fit well in any style of service and could easily be adapted for soloist alone.