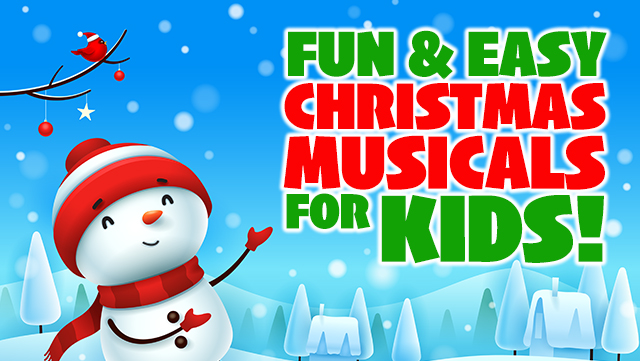 Bundle up and join us for a quick sleigh-ride through this list of Fun & Easy Christmas Musicals for Kids! These exciting kids musicals feature originals, carols, and Christmas favorites–and they include fun and meaningful narrations–that together bring your congregation a tender and heartwarming experience!

These musicals are easier to learn and sing, and we've included accompaniment tracks for each and every song! These fun and easy musicals give you some great opportunities to include your kids and create a wonderful Christmas experience that your congregation will love and cherish!

In addition to our kids musicals, Discover Worship also offers dozens of individual kids Christmas pieces. All of these are available for immediate download for our Unlimited PLUS Members. We hope you'll take some time to preview these kids musicals and consider them as you prepare for the Christmas season ahead.


KIDS CHRISTMAS MUSICAL
Every Little Angel
Arranged by Various
This 6-song children's musical features an easy-to-learn, two person drama and is a breeze to teach and a joy to behold. Every Little Angel will bless children and parents alike.




KIDS CHRISTMAS MUSICAL
Come & Worship: A Contemporary Christmas Carol Sing-Along (For Kids of Any Age!)
Arranged by Dennis Allen, Paul Mills, Paul Marino, Dave Cleveland
If you're looking for fun holiday music for kids of any age, this upbeat 9-song Christmas Carol sing-along for unison and two-part choir (w/occasional solo) is a blast! Simple enough for younger kids, but contemporary enough for a middle-school or even a retirement home. Includes narration & prayer.



KIDS CHRISTMAS MUSICAL
This Year's New & Improved Kids Christmas Spectacular!
Arranged by Kris Crunk, Russell Mauldin, Jeff Lippencott, Stan Morse, Hal Wright, Travis Cottrell, Paul Marino, Dennis Allen
Arranged for ages 6-10, this engaging 24-minute "musical within a musical" tells the story of a kids choir seeking a Christmas musical that's better than last year's disaster. Instead of the "hippest" new music book, they find their inspiration in the Bible's account of Jesus' birth!



KIDS CHRISTMAS MUSICAL
And You Will Know Him: A Slugs & Bugs Christmas Mini-Musical for Kids
Arranged by Randall Goodgame
Drawn from Randall Goodgame's wildly popular "A Slugs & Bugs Christmas", this incredibly fun musical (5-songs/12-minutes) for pre-K - early elementary tells the story of a shepherd dad and son who obey the angels' command to find Jesus in the manger. Unison choir and solo, minimal set and costumes.



KIDS CHRISTMAS MUSICAL
iHope Christmas: The Hope of the World
with Us
Arranged by Cheryl Rogers, Jeff Sandstrom
When Max and Hope plan for their upcoming "iHope Christmas Spectacular", they ask Aunt Mo and her showbiz friends for inspiration. With parts for adults and children, this pop-driven musical features singable arrangements, laughs, and a clear presentation of the Christmas story.



KIDS CHRISTMAS MUSICAL
The Whole World Sings at Christmas
Arranged by Jeff Slaughter, Paul Mills, Russell Mauldin, Dave Cleveland, Terry Winch, Kris Crunk, Travis Cottrell
This 30-minute musical for older children/youth gets straight to the heart of the Christmas story: Jesus was born so that we might be born again. The 8 songs—including 3 familiar carols—are fun and upbeat and arranged in unison and 2-part. Simple, short narration can be handled by 3 kids.