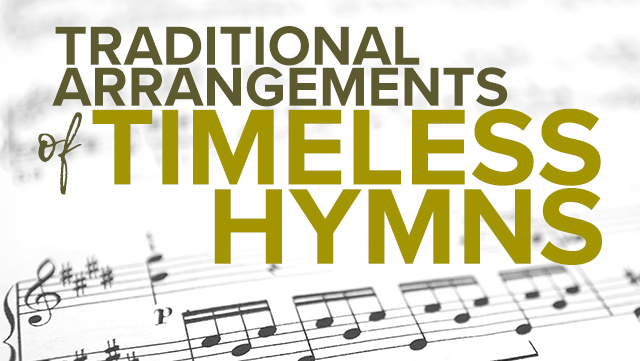 by Jaymey Hardin

In this special feature, we'll spotlight Traditional Arrangements of Timeless Hymns. This short list represents some of the most-loved hymns from our catalog. Ranging from easy to medium difficulty, these timeless treasures feature arrangements by Lura Foster, Dennis Allen, Phillip Keveren, Bruce Greer, and Luke Woodard!

These gorgeous hymns will work well in traditional or blended worship settings and highlight five SATB arrangements including a stunning A cappella piece! To learn more, simply click on the links below to preview the sheet music and audio demo. We hope you'll enjoy!

---

SATB (EASY)
It Is Well with My Soul
Arranged by Lura Foster
An SATB arrangement of the beloved hymn, this choral anthem with a beautiful piano accompaniment is easily learned and the congregation is able to join in readily. Works well for a traditional or blended worship service.




SATB (EASY)
Immortal, Invisible
Immortal, Invisible (with orchestra)
Arranged by Dennis Allen
Dennis and Nan Allen's adaptation of Walter Chalmers Smith's hymn takes on a life of its own with new lyrics and a 6/8 sway. Arranged for SATB choir, orchestra parts are also available to Unlimited Plus members.



SATB (MEDIUM DIFFICULTY)
A Mighty Fortress Is Our God
Arranged by Phillip Keveren
This stirring and timeless SATB arrangement of this regal hymn will fit perfectly into your traditional service.





SATB (MEDIUM DIFFICULTY)
Amazing Grace
Arranged by Bruce Greer
Bruce Greer has treated this timeless hymn with the majesty and dignity it deserves. With a traditional, sacred feel, men and women trade parts throughout and merge in the final verse for a dramatic musical crescendo.




SATB (MEDIUM DIFFICULTY)
Be Still, My Soul
Arranged by Luke Woodard
From the Christ Presbyterian Church Choir in Nashville, this stirring a cappella rendition of the beloved hymn will usher in a sacred moment of comfort and hope with thoughtful harmony and sensitivity.