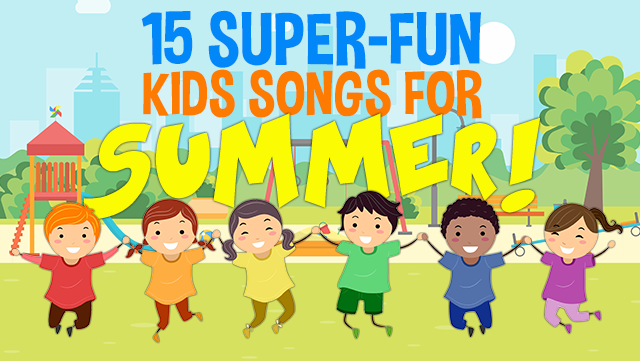 by Jaymey Hardin

Summer's on its way and that means Vacation Bible School is just around the corner! In this special feature, we'll explore a list of 15 Super-Fun Kids Songs for Summer! This extensive list offers something for kids of all ages and will help you create some fun times of worship for your kids this summer.

Whether you're looking for special music for VBS or for your Sunday church services, these songs will keep your kids focused and engaged as they worship the Lord! With fun music and easy-to-learn lyrics, your kids will love to sing along with these super-fun songs! Simply click on the titles below to preview the audio demo and sheet music for each piece!

---

KIDS 2-PART (MEDIUM DIFFICULTY)
'Tis So Sweet to Trust in Jesus
Arranged by Dennis Allen
Your children's choir is sure to enjoy Dennis Allen's energetic acoustic arrangement of the classic hymn! With optional harmonies for your advanced singers.




KIDS 2-PART (MEDIUM DIFFICULTY)
Children of God
Arranged by Dennis Allen
With a laid-back, reggae feel, this 2-part arrangement for children's choir conveys the simple, beautiful message of our being created in the image of God, and invited for us to receive Him and be called His. It is also available as part of the children's musical, "Sticky Notes and Bible Quotes."



KIDS UNISON (EASY)
Clap Your Hands
Arranged by Don Turney
Teach your little ones to use their ten-fingered instruments to clap and praise our awesome Father in Heaven with one of the most fun songs in our entire library!



KIDS UNISON (EASY)
Come and See
Arranged by Hal Wright
Recounting the story of Creation, this fun, Caribbean-flavored song helps little hearts and minds understand that God made the whole world and all the wonderful things in it.




KIDS CHORAL ANTHEM (MEDIUM DIFFICULTY)
Come, Christians, Join to Sing
Arranged by Dennis Allen
Your children's choir will enjoy this rock-infused arrangement of the great hymn of praise.





KIDS UNISON (EASY)
Encourage One Another
Arranged by Barney Robertson
This bright and slightly funky two-part arrangement with solo encourages kids to serve, care and encourage one another as Jesus did!





KIDS UNISON (EASY)
Everybody Sing
Arranged by Jeremy Lyon
With a rhythmic calypso beat, this easy, fun chorus will become a fast favorite of your children's choir.





KIDS UNISON (EASY)
Go and Tell
Arranged by Kyle Hill
Go! Go! Go! Tell! Tell! Tell! A fast and fun unison chorus that embodies the energy and urgency of The Great Commission!





KIDS WITH LEADER (EASY)
God Makes Messy Things Beautiful
God Makes Messy Things Beautiful (w/ video)
Arranged by Randall Goodgame
This punchy sing-along encourages children of any age to give their lives to the One who works everything for our good and His glory. Teach it to your kids and then have them teach it to your congregation! [Lyric video accompaniment track available to Unlimited PLUS Members.]



KIDS UNISON/2-PART (EASY)
Honor You, God
Arranged by Barney Robertson
With a driving rock edge, this high-energy anthem from Jeff Slaughter focuses on honoring, trusting and loving God with all our hearts! Great for older kids and even your youth choir. Mostly unison with occasion harmonies.




KIDS (EASY)
How Firm a Foundation
Arranged by Dennis Allen
A driving, light rock arrangement of the classic hymn that works well for younger kids as well as older ensembles.





KIDS UNISON (EASY)
I Believe
Arranged by Stan Morse
This upbeat and unison profession of faith proclaims that we can trust God's Word, that he is Lord of Creation, and that Jesus has come to save and redeem us. A wonderful way to teach the way to salvation.




KIDS UNISON/2-PART/YOUTH CHOIR (EASY)
Jesus Loves Even Me
Arranged by Dennis Allen
A rocking kids choir version of this familiar Philip P. Bliss hymn spans the generations by celebrating the amazing grace of Jesus! Unison on verses with harmony on the choruses. For older kids groups.




KIDS (EASY)
My House on the Rock
Arranged by Pete Carlson
This short and simple uptempo acoustic scripture chorus is great for both children's and youth choir. Try it!





KIDS (EASY)
Old Testament Song
Arranged by Randall Goodgame
From the Slugs and Bugs "Sing the Bible" project comes this irrepressibly charming way for kids (and their folks!) to learn all the books of the Old Testament. A perfect addition to the children's Sunday School playlist.