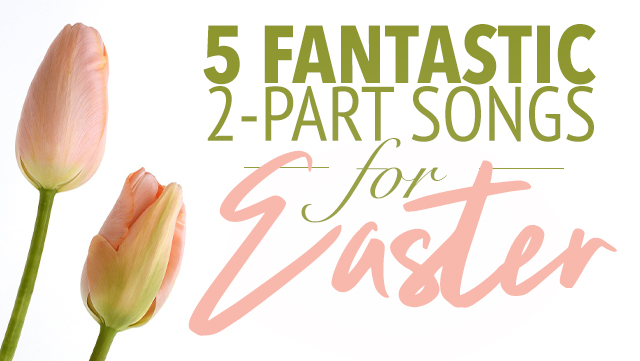 Discover Worship offers hundreds of Easter songs, all of which are available for immediate download to our members. Featured below are 5 Fantastic 2-Part Songs for Easter that are easy to learn and fun to sing! These beautiful 2-Part pieces will work perfectly in your times of worship as we approach Resurrection Sunday.

These fantastic 2-part songs can be performed by fewer singers and musicians and require less time to prepare and rehearse–making them a perfect option if you're looking for something simple, yet beautiful for your Easter worship services. Just click on the titles below to preview the entire audio demo and sheet music for each piece!



A Place for a King: From Bethlehem to Calvary, this compelling choral anthem underscores the magnitude of Christ's sacrifice--inviting Jesus to make his home within each of us. Primarily 2-part traditional/inspirational stylings with occasional 4-part vocals.



Enter Paradise (2-Part): This emotional Easter anthem is now available in a simple but elegant 2-part arrangement by Luke Woodard, joining solo/ensemble and SATB arrangements which compel us to reflect upon the incredible cost of redemption.



Hosanna, Hosanna!: This simple, upbeat worship chorus is arranged for 2-part women with optional children's choir. Easy to learn and perform with just an acoustic guitar and light percussion

Messiah Comes: Arranged primarily for 2-part choir (with occasional 3-part accents), this upbeat and contemporary anthem proclaims that the cries of "Hosanna" are just as relevant for us today as they were on Palm Sunday.



O Sacred Head Now Wounded: A sophisticated new musical setting of the traditional lyrics for 2 part choir & soloist that communicates the poignancy and passion of Christ's sacrifice. Check out the alternate version with live SATB choir and organ. Serves well in traditional and blended services alike.

Discover Worship offers thousands of fully pre-viewable and instantly downloadable pieces of great church music... including dozens of 2-Part songs at one low annual price - tiered to your average congregation size. Click here to find out how little an annual membership costs!

---
Please check out the following links to even more incredible Easter music available exclusively to Discover Worship members!