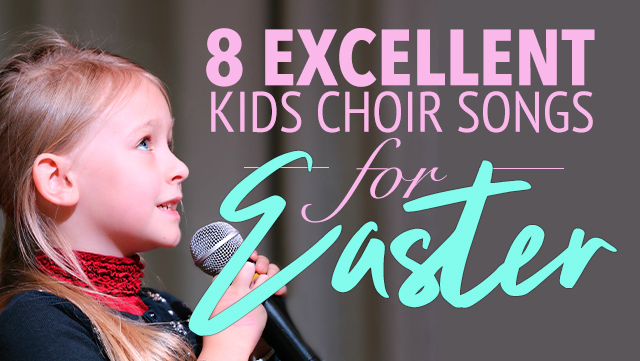 Discover Worship not only offers hundreds of great kids songs, we also offer several seasonal children's musicals, mini-musicals, and collections. All of these are available for immediate download and use for our Unlimited PLUS Members. Below is our guide to 8 of Discover Worship's best Kids Choir Songs for Easter and as a bonus, we'll take a look at the kids mini-musical, "Now I See!" Featuring 5 upbeat and engaging songs, this program runs 18 minutes in length and features easy unison and 2-part arrangements.

These wonderful pieces can add something truly special to your Easter services and make a memorable experience for all in attendance! Just click on the the titles below to fully preview the sheet music and audio demo for each piece.


Beautiful Savior (Fairest Lord Jesus): A timeless hymn lyric and melody set to a mid-tempo acoustic 2-part arrangement that makes it relevant for today's kids and student choirs.



He Lives Again!: Telling the Easter story from crucifixion to resurrection, this contemporary arrangement uses soloist and unison choir (with occasional harmonies) to proclaim that Jesus lives again!



Hosanna: This lively and inviting piece will be easy for your children's choir to learn, and would be the perfect addition for Palm Sunday or any worship service!



It's Jesus: This unison Palm Sunday kids choir anthem (with optional harmony part) paints an exciting picture of what it must have been like as Jesus made his way into Jerusalem amid waiving palm branches and shouts of Hallelujah!



See the Lamb: An engaging piece for children's choir and soloist that describes both the sacrifice and victory of the Easter Story.




The Hosanna Song: This Jewish-flavored worship song is a simple, fun and upbeat choice for Palm Sunday, Easter or any time your kids want to lift their voices in praise!




To God Be the Glory: An energetic rock groove animates Fanny Crosby's beloved hymn with a vibrant passion that will ignite a spirit of praise in your children's choir. With optional 2-part harmony.



When I Survey the Wondrous Cross: With a fresh pop groove, Dennis Allen's arrangement of the Easter hymn will give your children's choir an opportunity to shine. With optional 2-part harmony on the last verse.


---
BONUS: KIDS EASTER MINI-MUSICAL
Now I See! A Kids Mini-Musical for Easter: Five upbeat and engaging songs tell who Jesus is and what happened on Palm Sunday, Good Friday and Easter Morning. Short drama involves 3 kids (one who knows the Easter story, one who's gotten it wrong, and another who doesn't have a clue). 18 minutes/unison & 2-part.

Discover Worship offers thousands of fully pre-viewable and instantly downloadable pieces of great church music...including hundreds of songs for children--at one low annual price tiered to the average church attendance. Click here to find out how little an annual membership costs!

---
Please check out the following links to even more incredible Easter music available exclusively to Discover Worship members!