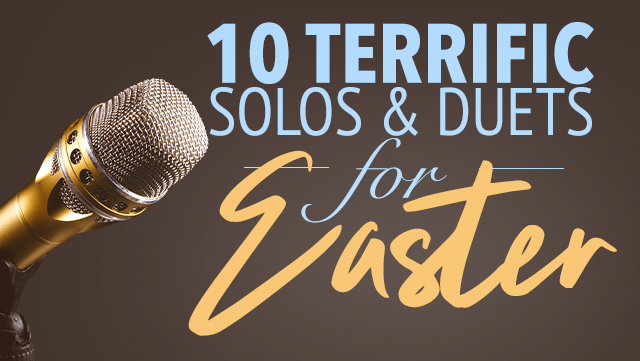 Discover Worship offers hundreds of Easter songs, which are available for immediate download for our Unlimited PLUS Members. Featured below are 10 simple to learn and fun to sing solos & duets for Easter. These wonderful songs will inspire and uplift as we remember Jesus' sacrifice and rejoice in His resurrection.

These terrific solos & duets range from easy to medium difficulty and require less time to prepare and rehearse. Click on the titles below to preview the audio demo and sheet music for each piece!

Alive: Although this lively worship song can be used throughout the year, it's especially appropriate during the Easter season. With a celebratory rock vibe, this song joyfully declares that Jesus is alive!



At the Cross: Worship leader Micah Kersh has reset Isaac Watt's lyric with a modern worship melody and thoughtful piano accompaniment. Perfect for a special feature for your blended service.



Crown of Thorns (solo): A deeply moving reflection on the crucifixion of Christ, this heartfelt ballad considers the thorns' symbolism in the tragedy of the cross, the sacrifice for sin, and the crown of His resurrection and victory. Arranged for voice, piano and cello. 3-part choir version also available.

Enter Paradise: Using the grace-filled words Christ whispered from the cross, this song evokes imagery of the gift Jesus gave. With a fresh treatment of well known scriptural texts, this piece is simple, yet worthy of addition to our varied Resurrection celebrations. [Video track available to Unlimited members.]


I Will Glory in the Cross: Arranged for soloist, this special piece reminds us to find wonder in Christ's gift of the Cross and would work for a variety of worship service styles.




It Was Finished on the Cross: For blended and contemporary worship settings, this stirring solo (w/optional harmony at the end) provides a compelling picture of Christ's sacrifice for our freedom on the cross.



The Love of Christ: Arranged for duet or 2-part choir, Robert Sterling and Regi Stone have crafted this modern hymn celebrating Christ's great love. Also available as a choir arrangement, this flexible piece could work in a variety of worship settings.



Man from Galilee: This contemporary, melodic piece for a soloist sings of Jesus' life as a man on earth--would make an excellent special piece during the Easter season.




Thirty Pieces of Silver: A mournful piece for soloist from the perspective of Judas, this piece would work well in an Easter drama.





The Way of Sacrifice: Heartfelt and moving, this piece brings out the meaning of Easter in such a poignant way. Using 4-part choir as backup for the soloist, it would fit well in any style of service and could easily be adapted for soloist alone.


Discover Worship offers thousands of great pieces of church music that can be fully previewed and instantly downloaded, including dozens of solos and duets at one low annual price - tiered to your average congregation size. Click here to find out how little an annual membership costs!

---
Please check out the following links to even more incredible Easter music available exclusively to Discover Worship members!