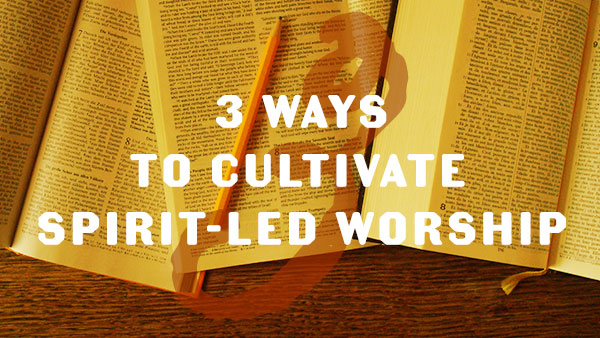 by John Chisum, Nashville Christian Songwriters
I looked in the mirror the other day and saw my dad looking back at me. There he was: a slight furrow in his brow, a few wrinkles around his eyes, his tousled hair with a little salt and pepper around the sideburns. When did I start looking like him? It seemed like just the other day I looked more like me. But the evidence in the mirror was undeniable — I have my father's physical traits.
So it is with our heavenly Father. In Christ, we have God's spiritual DNA. And he goes a step further: he pours his character, nature, attributes, and traits into us through His Spirit. The more we yield to him, the more we look and act like him. This is the power of engaging worship — we become like him as we behold him.
The indwelling presence of God is the greatest key to effective and transformational worship leading. So how do we experience this?
Here are three avenues to cultivate the indwelling presence of God:
1. Befriend the Holy Spirit
In John 14:26, Jesus promised to send the Comforter: "But the Counselor, the Holy Spirit, whom the Father will send in my name, will teach you all things and will remind you of everything I have said to you."
The Greek word for comforter means, "One called alongside to help." His role is to counsel us toward the truths of Christ in our lives and in our leadership. He is available to help us lead, but we rarely seek his assistance.
The best thing you can do to become a transforming worship leader is to befriend the Spirit of God and talk with Him as openly as you do with Jesus and the Father.
The Nicene Creed, a 4th century AD statement of church unity, says:
We believe in the Holy Spirit, the Lord, the giver of life,
who proceeds from the Father and the Son.
With the Father and the Son he is worshiped and glorified.
He has spoken through the Prophets.
The Holy Spirit gives, proceeds, and speaks. He is to be worshiped and glorified along with God in Jesus and the Father. This is practical for us as worship leaders because he gives us a direct link to God's counsel and comfort as we lead.
Are you listening to Him? Make friends and cultivate your sensitivity to His voice.
2. Cultivate Your Sensitivity to His Leading
When I am leading worship, I try to be sensitive to what the Spirit is doing within me. The Spirit knows what Jesus wants to happen in worship to glorify the Father, so the Spirit sends me signals I can pick up on my spiritual radar.
Sometimes this means singing a song that will sensitize the congregation to his presence in our midst. Sometimes this means to stop singing and read a verse of Scripture or share a thought. Sometimes this means leading the church in prayer or speaking an exhortation or prophetic word. I intentionally cultivate my sensitivity so that I can follow his leadership.
The Holy Spirit does not draw attention to himself. He doesn't disrupt or make a spectacle of himself or us. Rather, he focuses us on the words of Christ and the worship of the Father. These are the hidden rhythms of the Spirit: his gentle nudging toward what he knows will help us experience God in Spirit and in truth.
For me, the typical leadings I get from the Holy Spirit for worship are about which songs to sing, how to make the service flow as a cohesive sermon, and how to relinquish my controlling nature to the Lord.
The Holy Spirit does wonderful things with the songs, exhortations, and prayers if I surrender them to him. Sensitivity to the Spirit is not automatic. To develop a listening ear and a sensitive heart requires daily practice and not waiting until the service starts. Invite the Holy Spirit to guide your worship service planning.
3. Encourage Others Toward Friendship with the Spirit
Many people are uncomfortable talking about the Holy Spirit as a present and active force in their lives. They tend to think of him like Casper the Friendly Ghost instead of a vital person in their lives.
Encouraging others toward a greater sensitivity to the Holy Spirit is vital to realizing his power in our own lives. You can encourage your people to do this if you take the time to do it yourself.
Study what God's Word says about the person, fruit, and gifts of the Spirit. Wrestle with these verses. Ask the Lord to reveal his power and presence to you during personal meditation as well as in corporate worship. When you do, you will be far more effective than you would otherwise be in your own spirituality or leadership.
Some pastors are uncomfortable with anything in the worship service that is not timed or controlled. This is understandable because they feel the weight of responsibility for what happens. Many times, pastors and worship leaders have not communicated enough to hammer out a unifying philosophy and theology of worship — especially as it relates to the influence of the Holy Spirit. Have some honest conversations with your pastor, and discuss ways you can both be open to the moving of the Spirit in worship.
The more you communicate about what biblical worship should look like, the more often you will experience it.
---
This short excerpt is from John Chisum's practical e-book, Five Keys to Engaging Worship, which is also available in paperback at Amazon.com along with John's most recent e-book, Seven Proven Strategies to Write Better Songs. Check out www.nashvillechristiansongwriters.com for more information and special offers.
Click here for other John Chisum articles available at DiscoverWorship.com.
--For more helpful articles about church music and worship service planning, check out www.discoverworship.com and these articles: