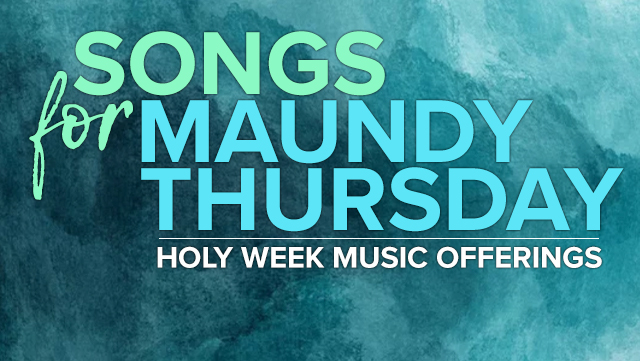 by Jaymey Hardin

In this special feature on Holy Week Music Offerings, we'll explore a list of songs that were specifically curated for your worship services on Palm Sunday, Maundy Thursday, and Good Friday. While perfect for your Holy Week worship services, these songs will work well in the weeks leading up to Easter and throughout the season. In this feature, we'll focus on Songs for Maundy Thursday.

Maundy Thursday is part of Holy Week and is always the Thursday before Easter. It takes its name from the Latin word, 'mandatum' or 'command,' which refers to Christ's instructions to his disciples at the Last Supper. In John 13:34, we read, "So now I am giving you a new commandment: Love each other. Just as I have loved you, you should love each other." On Maundy Thursday, we take Communion, we remember Jesus' words to his disciples, and his act of humility as he washed their feet.

Many churches commemorate Maundy Thursday with special Communion and Foot Washing services. These special traditions remind us of Christ's sacrifice and his commandment to love one another.


---

SATB (MEDIUM DIFFICULTY)
The Time Has Come
Arranged by David Lantz III
For a sacred/traditional context, this poignant anthem features soloist and SATB choir over a simple piano track (optional oboe part is included) to express Christ's willing sacrifice for sin. Maundy Thursday/Last Supper/Gethsemane theme.



SATB (EASY)
Bread of the World
Arranged by Don Michael Dicie
A traditional SATB arrangement of this communion hymn from Don Michael Dicie. Warm. Inviting. Moving.





SATB (EASY)
Remember
Arranged by John Patrick
This rich representation of the first Communion for SATB choir, featuring a substantial solo sang from the perspective of Jesus, includes an extended instrumental section for distribution of the elements. Serves well in blended and contemporary settings.



INSTRUMENTAL PIANO (EASY)
Break Thou the Bread of Life
Arranged by Kyle Hill
A pleasant arpeggiated arrangement for the beginning church pianist who wants to stretch into the majestic final passage.





INSTRUMENTAL PIANO (EASY)
Gethsemane Prayer
Arranged by Dennis Allen
From Dennis and Nan Allen, this special Easter reading through Christ's prayer at Gethsemane paired with a moving piano piece is an excellent incorporation into any Easter drama or service. Arranged for two readers and pianist, this piece could easily be adapted for more than 2 readers if needed.


For more Holy Week Music Offerings, check out our other blogs:
Songs for Palm Sunday
Songs for Good Friday