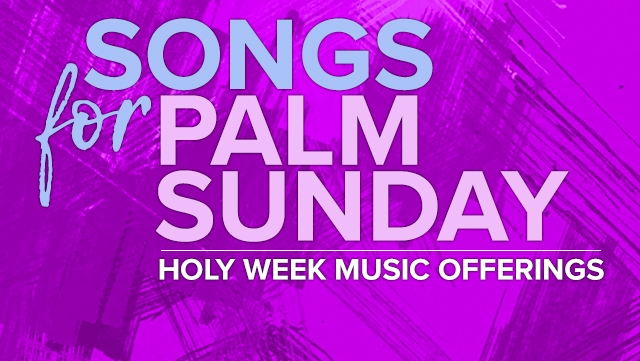 by Jaymey Hardin

In this special feature on Holy Week Music Offerings, we'll explore a list of songs that were specially curated for your worship services on Palm Sunday, Maundy Thursday, and Good Friday. While perfect for your Holy Week worship services, these songs will also work well in the weeks leading up to Easter and throughout the season. In this feature, we'll focus on Songs for Palm Sunday.

Palm Sunday is always observed on the Sunday before Easter, and it commemorates Christ's entrance into Jerusalem–before his arrest on Maundy Thursday and his crucifixion on Good Friday. All four Gospels tell of the crowds that welcomed Jesus as they waved palm branches and laid them in his path. They shouted, "Hosanna" as he passed by.

Jesus entered Jerusalem knowing that he would be tried and crucified. He knew these were the final days leading to the cross, and still he came. Palm Sunday is a powerful reminder of when we welcomed Christ into our hearts and of our decision to follow him. The following songs will compliment your Palm Sunday worship services.

---

SATB (MEDIUM DIFFICULTY)
Prepare the Way
Arranged by Dennis Allen
Dennis Allen's dramatic (and rhythmic!) 4-part call to "Prepare the Way" is an excellent choice for Palm Sunday or for a sermon about John the Baptist. A piece with a flexible style, this song would work well in traditional, blended, and contemporary settings alike.



SATB (EASY)
Enter In
Arranged by Terry Winch
With SATB choir and optional children's choir part, this inspirational arrangement makes a wonderful Palm Sunday anthem, asking the Lord to enter the gates of our hearts.




2-PART (MEDIUM DIFFICULTY)
Messiah Comes
Arranged by Kyle Hill
Arranged primarily for 2-part choir (with occasional 3-part accents), this upbeat and contemporary anthem proclaims that the cries of "Hosanna" are just as relevant for us today as they were on Palm Sunday.




SATB (EASY)
Blessed Is He
Arranged by Dennis Allen
Dennis Allen's upbeat yet elegant anthem has an optional children's choir part (1st verse) to incorporate your kids on Palm Sunday. Also available w/brass for Unlimited Members.




CHILDREN'S UNISON (EASY)
The Hosanna Song
Arranged by Bruce Greer
This Jewish-flavored worship song is a simple, fun and upbeat choice for Palm Sunday, Easter or any time your kids want to lift their voices in praise!



For more Holy Week Music Offerings, check out our other blogs:
Songs for Maundy Thursday
Songs for Good Friday