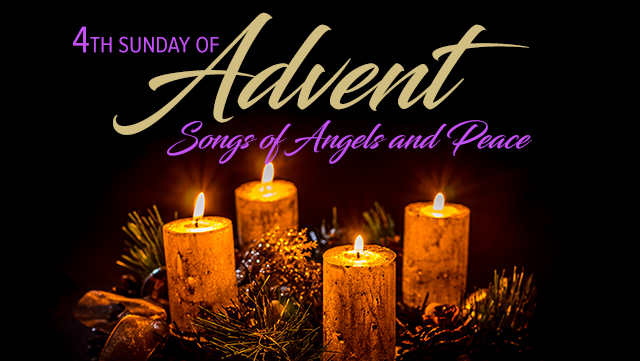 by Jaymey Hardin

The following selections are for the 4th Sunday of Advent: Songs of Angels and Peace. This is our fourth and final installment in our Songs for Advent series, which covers each of the four Sundays leading up to Christmas. If you missed any of our previous features, you can view them all by clicking the links below:
Advent means "coming" or "arrival," and is a time to prepare our hearts and minds for the coming of Christ as we celebrate His birth at Christmas–and anticipate His return. Advent includes the four Sundays preceding Christmas. During this time, churches all over the world will be illuminated as they light a candle on each of these Sundays. Typically, the four candles symbolize Hope, Love, Joy, and Peace–and are lit in that order.

Some churches use candles with slightly different meanings or light them in a different order, but we will focus on the topic of Peace as symbolized by the "Angel's Candle." This candle reminds us of the angel that announced Christ's birth to the shepherds. Accompanied by a heavenly host, the angel delivered the message, "...and on earth peace, good will toward men."

These beautiful songs will be a perfect addition to any worship service throughout the Christmas season, so be sure to check them out!
---

SATB (EASY)
Gloria
Arranged by Jeff Lippencott
From the mouths of the angels in the heavens to the people of Earth, Jeff Lippencott's inspirational "Gloria" brings joyful adoration to the newborn King!





SATB (EASY)
Hark! the Herald Angels Sing
Hark! the Herald Angels Sing (w/ orchestra)
Arranged by Dennis Allen
With a rolling, Celtic rhythm and triumphant feel, Dennis Allen's SATB arrangement of this Christmas anthem is a a great choice for a blended service, Christmas gathering, or choir showcase. Full orchestration available for Unlimited PLUS Members.



3-PART (EASY)
Silent Night, Holy Night
Arranged by Dave Williamson
This original song for solo with 3-part ensemble or choir illuminates the wonder of the first Christmas night and ends with a beautiful a cappella rendition of the traditional Silent Night. Includes optional flute part. Serves well in blended and contemporary settings.



3-PART WITH SOLOIST (MEDIUM DIFFICULTY)
Angels We Have Heard on High
Arranged by Karen England, Nancy Groeneveld
Re-harmonized in a minor mode, this classic carol features a light rock groove and haunting new melody. Perfect for a contemporary candlelight service. For soloist and 3-part choir.




INSTRUMENTAL PIANO WITH STINGS (DIFFICULT)
Angels We Have Heard on High
Arranged by Joseph Nimoh
Arranged for string quartet and piano, this inspired rendition of the classic carol employs a modern touch with moments of jazz harmonization. Perfect for an instrumental feature during the Advent season.



---
Be sure to check out our complete series on Songs for Advent: